Angela Simmons launches new lipstick line
Angela Simmons presents new cosmetic collection, Lip A.R.T. in collaboration with celebrity makeup artist Mia Johnson.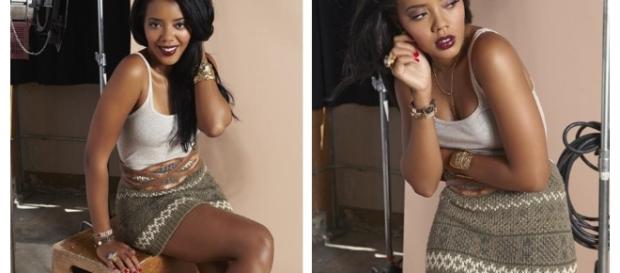 Angela Simmons, daughter of rap legend Joseph Simmons, better known as Rev Run, teamed up with celebrity #makeup artist Mia "Mimi" Johnson to create liquid lipstick line 'LipArt.' Angela tells InStyle Magazine that lip makeup is one of her most exciting parts in getting dolled up and would like to let other makeup-loving women in on her top picks for lippies. In addition to Simmons, Johnson has done makeup for stars of The Real Housewives of Atlanta, Cynthia Bailey and Kenya Moore, among other celebrities.
Lip shades for the holidays
The quartet of holiday-themed colors includes a basic red called 'On Point Settia,' a nude called 'Bows & Baes,' a dark red named 'SLAYbells' and a gold-based metallic referred to as 'Holidaze' on the online store.
The 29-year-old Pastry shoe and clothing line co-founder markets the cosmetic products to other business women and girls with aspirations. She chose red for her collection because it inspires to women to go after their goals. Wearing the bright colored lipstick is essential for a confident strut. She suggests that the chic, metallic lipstick be worn as a bold hue to complement an outfit typical of a minimalist. The vegan products are now available for pre-order and will be shipped in November.
Not the same teenager from "Run's House"
The collection of lip shades made its appearance on Johnson's online store The Glamatory, just days after Simmons welcomed her son Sutton Joseph into the world. Taking the names of his father and grandfather, little Sutton made his arrival on September 22, a month earlier than expected.
Shocking many young adult women close to her age, Simmons announced her pregnancy a month after revealing her engagement to fiancé Sutton Tennyson, 35. As proven on her Instagram account, Angela refused to let her pregnancy press pause on her usual lifestyle as she continued doing sartorial photo shoots embracing her pregnancy and having yoga sessions with instructor Latham Thomas to keep her slightly active for good health, which was okay'd by her doctor. Thomas shared on Simmons' page tips for other expecting moms. The yoga instructor advised doing some activity when they are about to reach the end of their pregnancy, since that is when laziness kicks in. She also tells them to get used to asking others to do things for them, such as tying their shoe laces. Becoming well-known from MTV reality television shows "Run's House" and "Daddy's Girls," the public has enjoyed watching Angela live out loud on social media. Simmons' surprised many social media on-lookers when she snapped a shot of herself in gym clothes only 13 days after delivering her child.  #AngelaSimmons #Cosmetics