WobbleWorks releases '3Doodler Create': A toy and an art tool
The 3Doodler Create is a 3D pen that useful to professional artists and designers as well as older children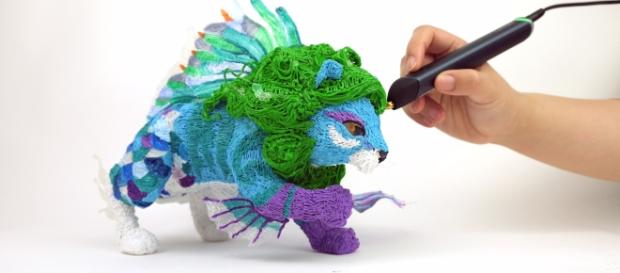 Three-dimensional printing is becoming one of the fast-growing forms of technology. Each year, 3D printing becomes more cost effective and accessible and it is likely that 3D printers will soon be a common household item. Entrepreneurs are tapping into the potential for this new medium and 3D pens are being promoted as excellent art tools and/or playthings. A company called WobbleWorks, Inc. was the first brand to release a 3D pen, known as the 3Doodler, which was marketed as both a toy and an art supply. Although companies including Tech 4 Kids and Redwood Ventures have followed up with an entire line of gel-based wares such as the "IDO3D" series, 3Doodler works with plastics--not gels--and aspires to reach consumers of all ages including adult hobbyists, DIY enthusiasts and art professionals.
Rachel Goldsmith, Nikki Firmin and Grace du Prez are all artists who regularly work with 3Doddlers.
History 
Recently WobbleWorks launched their latest 3D printing pen called the "3Doodler Create." This lightweight aluminum pen was manufactured for the professional world and made its way into the toy industry after launching a successful Kickstarter campaign. The original model was successful with consumers and sold over 500,000 units in its first year. The new "3Doodler Create" is proving to be even more promising, especially to gadget experts and tech enthusiasts. This version includes many cutting-edge features, including 65 color options and the ability to render the plastic creations in six different finishes including glossy, clear, metallic, matte, glow and sparkle. "We are thrilled to have brought this innovative new product to market," said Maxwell Bogue, Co-Founder and CEO of WobbleWorks, Inc.
"It's got a redesigned drive system that is quieter, faster, smoother and more reliable. We are seeing creations that we would have never imagined possible. We are happy to give crafters, hobbyists, tech-enthusiasts and makers of all levels a tool that allows for them to bring their creativity to life in a whole new way."
Review and future 
The 3Doodler Create certainly works as advertised and comes with easy-to-understand (and very visual) instructions. The pen heats up quickly and you can start drawing within minutes after opening the box, although it does take time to master the hand movements required to attain the best results. The tip of the pen also gets hot quickly and can be a burn risk which is partly why this item is strongly recommended for mature users. There are numerous color options available and the rich, vibrant shades--even the deep midnight black--lose none of their luster when melted. Moreover, the finishes work exactly as advertised and the end results are better than gel-based systems like IDO3D.
The pen comes with two packs of different colors and additional sets of plastic strands, nozzles and stands are all available in separate packages. CEO Maxwell Bogue has big plans for the future. Noting that in merely three years, the organization has already come up with three pens--and each year's updated model is more radically improved than the last. "As we continue to learn more about our passionate community and the amazing ways in which they use, or want to use the 3Doodler, we see there's so much more we can do," Maxwell explained. "Right now we have over 300 items in the 3Doodler range and we definitely plan on producing more. Innovation is a core value and so far we've had no shortage of ideas; our only challenge has been too many ideas!" On September 1, 2016, WobbleWorks launched a brand new product at IFA in Berlin and they have also extended their existing models from toy stores into speciality art supply chains--including the renowned MoMA Shop which is directly connected to the Museum of Modern Art. They also launched their first national TV campaign in the US at the end of August. A kid's version on the pen, 3Doodler Start, will be available by the end of the year. #Toys & Games #Art Supplies #3D Printing Technology