Top 10 easy DIYs to do with Mason Jars
Discover ways to decorate, store supplies, and recycle with the many uses of mason jars.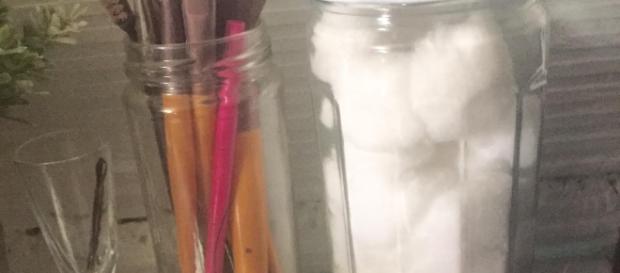 Save your mason jars! These practical containers have taken over Pinterest, DIY blogs, and houses with their versatile and convenient uses. Check out these ideas for introducing glass jars into your everyday routine.
Canning
Consider prepping veggies, fruits, nuts, etc. a week ahead of time and preserving them in mason jars. While plastic containers contain toxins making them dangerous when it comes to preserving food in the refrigerator or freezer, glass remains a safe alternative. Jarring foods not only makes a healthier and easier life, but it also adds organization in the pantry, and fridge.
Bathroom organizer
From storing brushes to toothpaste, and cotton balls to Q tips, bathrooms are always in need of a proper storage system.
Luckily, glass mason jars are easy to clean and replaceable! Try mounting them on a wooden board for farmhouse-inspired decor.  Re- purpose them as dispensers for lotion or soap!
Office
Forget about paying extra for a pen or pencil holder, mason jars are an eco-friendly way to store office supplies and clean up your work space.  Not to mention, they make great lunch boxes.  Smoothies, iced coffee, salads, and parfaits are some of the many delicious uses for that mid-day mason jar.
During an event
Mason jars have slipped their way into the party scene, appearing as chic rustic painted vases, and showcasing twinkling candles along cables during weddings.
Holiday gifts
Treat your friends and family by combining coco or cookie ingredients in a jar.  Add fabric and some ribbon, or a label for a custom crafty appearance.
For the kids, grab some tiny toys and fake snow for a fun #DIY snow globe.
Gardening
Welcome greenery inside by planting herbs in soil and clay filled mason jars.  These practical jars make great alternative to clay pots.
Mason Jar decor
While glass mason jars look simply divine alone, an added touch of color creates character.  Food coloring can be used to tint the glass while painting the tops metallic or solid colors can spark a fun flare. For an even bolder look, cut a balloon in half, and place it over the bottom of a jar. #home #Environment