Sequins used as playthings in new artsy DIY line by Geospace International
'Sequin Art' enhances motor-skills and encourages offline creative play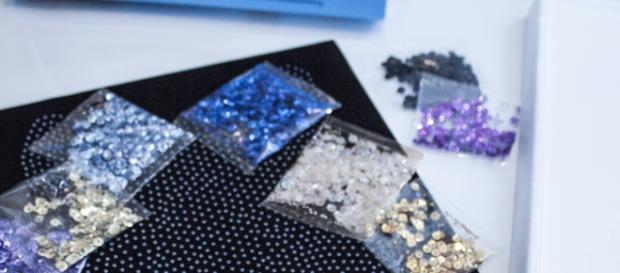 #Sequins are tiny shimmery pieces of foil that are somewhat akin to beads in that they are frequently used to add details to elaborate costumes. A favorite medium of theatrical costume designers, marchers in carnival parades and/or trick-or-treaters, sequins have a strong association with glitz and glam. In 2016, a toy company known as Geospace International released a line of DIY kits for tweens that use sequins as a creative means of artistic expression.
Background
There are currently dozens of sets and styles in the Sequin Art line. Each kit includes a colorfully illustrated and numbered paper template depicting an image, several bags of sequins in various hues and little pegs to adhere the sequins to the template.
Each color is assigned a number and if children stick the sequins onto the right pegs they will make the image bright and shiny--which, in turn, makes it a nice thing to hang on a wall. "With every new generation of children, there is a re-spark of interest in DIY sets," said Aaron Ackert, the Director of Sales for Geospace International. "The great thing about DIY kits is that they provide a sense of self pride and confidence during the time they are building it as well as displaying the finished work upon completion." DIY sets have also been regaled for improving motor-skills, enhancing concentration and getting kids away from screens for a while. 
Benefits 
Due to the universal appeal of sequins, these sets were always intended to be fun yet simple crafts. However, there are also more advanced kits available for more experienced users.
"While kits such as the Red Style series show you exactly where to put each colored sequin on the picture, kits such as our Blue or 3D series do not," explained Aaron Ackert. "The Blue and 3D series are more difficult because you are relying on an instruction sheet for Sequin placement rather than having the picture or shape fully guide the kit builder." Interacting with these crafts strengthens a person's ability to work with tiny mediums like sequins and can even lead to a deeper interest in costuming, art and/or design. In fact, some famed fine artists like Christybomb regularly use sequins on canvases, in sculptures and more. Geospace International has many other interesting and science-or-art-based products in their line such as the GeoFlux, Walk-A-Roo Stilts and Beasty Buddies but they are especially interested in adding to the Sequin Art line in the near future. "We plan to expand this line greatly," stated Aaron Ackert. "The animal series have especially been a popular category. How can you not like a sparkling, colorful picture of your favorite animal?" #Toys & Games #Arts & Crafts