Milk of Magnesia on your face? Yes as a foundation primer. Kylie does it too!
Beauty products can be found in unusual places in the drugstore. Example; Milk of Magnesia in the laxative aisle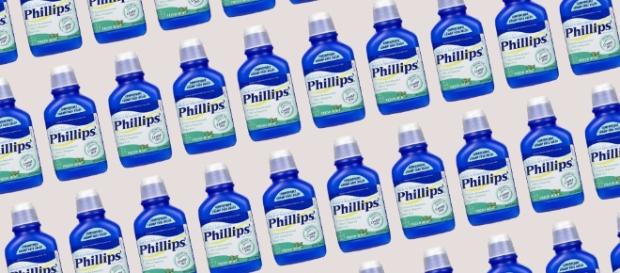 I am someone who will try just about anything (within reason), if it claims to make me look younger, promises clear skin, or any other miraculous statement. I tried Milk Of Magnesia (AKA: MOM) many years ago as a pimple remedy, and for an oil reducing facial. I had mixed results for pimples, as for the facial I think there was an improvement. Now that Milk of Magnesia is being touted as an amazing, foundation primer, said to prevent shine, and to keep your foundation matte. According to the gossip magazines, Kylie Jenner's make-up artist swears by it, and if it is good enough for Kylie then it is good enough for me.
That being said, actually using it is an adventure.
 Because no matter where I look, on various news pages everyone has a different way to use it.
As I tend to plow straight ahead without reading the directions is really where the fun begins.
Do Not buy flavored versions, as they may contain mineral oil, which could lead to clogged pores, and breakouts.
Make sure your Milk of Magnesia only contains water and magnesium hydroxide.Many formulas have begun to add sodium hypochlorite which is essentially a bleaching agent.
Shake Well before using. (or you will have a very watery result)
Apply daily moisturizer.
Pour a small amount into the plastic cup, (a little goes a long way) dab a small amount on your finger, and apply to oily areas.
Rub in until color disappears. Allow to dry for approximately 2 minutes. If there is a chalky residue simply wipe off.
Apply foundation.
So I made a few erroneous applications.
Again because I don't read directions. I initially applied it without moisturizer, not a good idea, and the end result was dry powdery skin, and make-up that settles into every fine line you may have, (not the desired affect).
I did use a little, or maybe a lot too much, and ended up terrifying my dogs, and my daughter, and myself. It is a great discovery for men that prefer less shine on their bald heads. I have also heard of many people using it as a natural underarm deodorant, I have not tried that yet. So I suggest heading to the drug store and trying it for yourself. #beauty #Tips #milkofmagnesia