Interview with sculptor Michael Dunbar
Artist Michael Dunbar is known for his huge sculptures which are usually made out of metal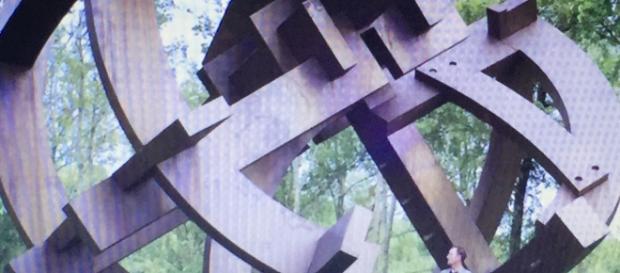 Michael Dunbar is an American artist who is best known for his large scale sculptures that are located on the grounds of Sculpture parks, universities and other public locations across the globe. Michael was born in California to a family of artists and architects. After earning a degree in art, he became involved with the Community Arts Management Program of the University of Illinois in Springfield where he received a National Endowment for the Arts Fellowship and later earned a Masters degree in Art Administration. In 1976 he established his welded steel sculpture studio and in 1977 he secured the position as the Coordinator for the Art-in-Architecture program for the State of Illinois. Upon winning awards for his work, Michael conducted sculpture competitions and curated exhibitions.
Recently he spoke about his experiences working as an Artist.
Inspirations
Blasting News (BN): How did you decide to become an artist?  
Michael Dunbar (MD): I was an artist from an early age. My mother reports that I made my first sculpture of a motorcycle when I was three years old! 
BN: Growing up, which artists interested you? 
MD: I loved the work of Alberto Giacometti since grade school. 
BN: How would you describe your work?
MD: For the first 25 years, I had been a figurative sculptor. In 1976 I started creating abstract sculpture and was drawn to the art work of Henry Moore's as a transition from figurative to abstract art. To this day however there has been always been a figurative element in the structure of my work.  
BN: How did you go about getting into galleries and public showcases? 
MD: I exhibited my artwork at every opportunity.
In many cases, when there wasn't an opportunity, I created my own exhibition opportunities.  
BN: Do you have a favorite piece?  
MD: My favorite sculpture would have to be Euclid's Cross a 30 ft long by 21 ft tall by 18 ft wide 14 ton bronze  sculpture I created in 2004, for Pyramid Hill Sculpture Park in Hamilton Park, Ohio. 
BN: What mediums do you use? 
MD: As a sculptor, I have always worked in clay, but when I enrolled in foundry classes at Illinois State University in Bloomington, Illinois in 1972, I found my calling. I love bronze. I have worked in cor-ten steel, painted steel, stainless steel, aluminum, fiberglass, wood, granite, concrete, and everything in between--I even have a sculpture made of bread dough in the permanent collection of the Illinois State Museum! However, I always come back to my first love….bronze.  
BN: How did you develop your style? 
MD: I began the current work as a series of drawings back in 1975 and have been developing and refining the precision quality images of my work ever since. 
Aspirations 
BN: What has been the most rewarding part of being an artist? 
MD: Through several of my projects, I have been able to personally meet and work with Jean Dubuffet, Anthony Caro, Clair Zeisler, Eduardo Chillida, and hundreds of other great artists.  
BN: What advice would you give to aspiring artists?
MD: Be prepared for a lot of setbacks.
But always remember that not everyone is going to see your art work the way you do.....So don't let their limited level of visual awareness discourage you from your pursuits as an artist. Whatever you do, do it for yourself. It is NOT about the money or the fame; it is all about what comes from creating something so exciting, so exhilarating, so emotionally rewarding that it gives you a great sense of personal satisfaction. There is a great joy in seeing something that did not previously exist come to life through your thoughts and creations. 
BN: Are there any upcoming projects and/or events that you want to mention? 
MD: I have a traveling exhibition of my sculpture titled CONTINUUM, the art of Michael Dunbar in the Sculptural Tradition that will open on September 21st at the David Owsley Museum of Fine Art at Ball State University, then travel to the Snite Museum at Notre Dame and on to several additional museums and other venues over the next two years.