Interview with artist Fay Wood
Fay Wood is an artist and sculptor who currently lives and works in New York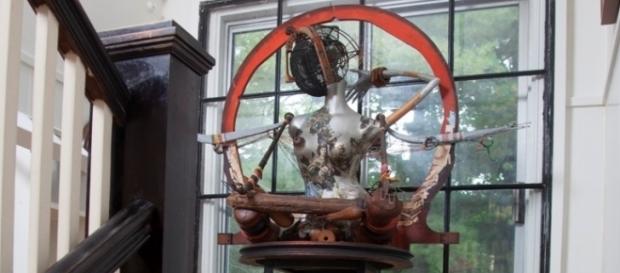 Fay Wood is an artist and sculptor who was born in 1939 and attended the College of #Art in Boston. In the 1990s she established the Fay Wood Studio and started to exhibit her artwork widely. Today, Fay and her husband live in New York state where she continues to create artwork. Recently, she spoke about her experiences working as an #Artist.
Inspirations 
Blasting News (BN): How did you decide to become an artist?   
Fay Wood (FW): My Mother was an artist and illustrator and I grew up drawing. I went to New York City at 17 to study Fashion design. I didn't like it but the fine art I saw in the city galleries inspired me to go to the Massachusetts College of Art to study.
BN: Which artists/types of art interested you? 
FW: As a student, I was attracted to Georgia O'Keefe and Louise Nevelson and to each style that I saw in turn, mostly work by men. This was the late 1950's- early 1960's when women were not well recognized as serious artists so there were very few role models.
BN: How would you describe your work and what inspires it?
FW: My work deals in shapes, space, color, texture, movement and probably a good deal of feminist philosophy enters in. Because I work in a variety of materials, each piece seems to have a style of its own, but there is a continuity - a look – that is all my own. In starting a work, my inspiration comes from the look and color of the material I'm using and I always work to music.     
BN: How did you go about getting into galleries and/or public showcases? 
FW: In the beginning as an artist women were not encouraged to take their work seriously.
It was many years before I felt I understood enough to call myself an artist. Without the Feminist Movement in the late 1960's I would probably not have been able to build the confidence in myself and my work that I now have. At that time, women joined together to form their own successful galleries in order to get their work seen. Now when I show it is usually by invitation, although occasionally I will successfully answer a call for art. I also open my studio to the public.              
BN: Do you have a favorite piece?
FW: One of my favorite pieces is "Aftertaste" which is made from my original drawings of a 6-foot-tall, 300-pound model. I became focused on creating a three-dimensional piece from the drawing, using a metal armature covered in found objects, rag paper, and beeswax. She later went with me to the Biennale in Florence, Italy.
BN: How did you develop your unique style? 
FW: My education, both formal and self-taught, expected me to use the most individual approach possible.
My work initially was not taken very seriously by galleries and critics so I learned to do a lot of thinking, preliminary sketches and then proceed. One success led to the next.        
Aspirations 
BN: What are your mediums of choice? Do you plan to expand to others? 
FW: Found object sculpture is my favorite. Collage is also becoming a favorite. New mediums don't interest me now, maintaining the six that I do--found objects, sculpture, oil painting on canvas, reverse oil painting on glass, drawing, collage and tapestry—is enough.
BN: What has been the most rewarding experience being an artist? 
FW: Exhibiting my work at the Biennale Dell'Arte Contemporanea in Florence, Italy, and with my husband, creating a wonderful, large scale sculpture and painting exhibition titled "NINE / 9" at the Clove Church Studio, our former home and four-acre garden where we sited large sculpture by nine artists with paintings in the studio. The visitors who saw it are still talking about it.
BN: Are there any upcoming projects and/or events that you would like to mention?  
FW: I'd like to add to my portfolios and I'm beginning to consider a possible large sculpture event in Saugerties to celebrate International Sculpture Day. It's just an idea at this point but by April 2017 it may be a reality involving the professional sculptors living in our town. #Interview