Experience autumn in the Great Smoky Mountains
Autumn in the Smoky Mountains is a time when cooler temperatures arrive and the landscape turns into a radiant and colorful wonderland.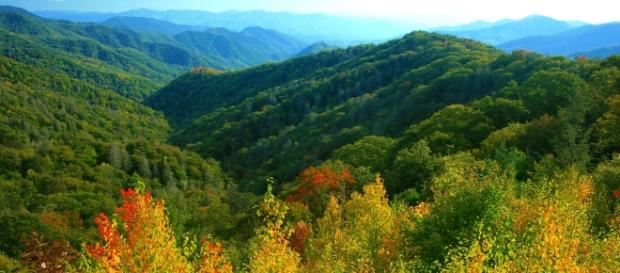 With the changing leaves displaying their radiant colors of red, orange, and purple, and accompanied by cooler days indicates that #Autumn has arrived. Autumn is typically a time to go out and explore our natural environment, whether for just a day or an entire weekend. Don't let autumn escape without treating yourself to the Great Smoky Mountains National Park to experience a stunning display of red, orange, and purple color. The park contains more than 100 different varieties of trees displaying billions of leaves with rich hues of color.
However, there is so much more to see and do which makes the national park a perfect mini-vacation spot for individuals and their families.
Among the various activities provided are hiking, bicycling, touring by car, wildlife viewing, fishing, camping, tours of historical dwellings, horseback riding, observing waterfalls, and picnicking.
The easiest way to explore the Smoky Mountains is on foot, making it possible for visitors to view the stunning landscape and variety of wildlife within the park. With approximately 850 miles of hiking trails, visitors will discover numerous trails leading to a number of interesting spots such as Charlies Bunion, Alum Cave Bluffs, Andrews Bald, Rainbow Falls, and Chimney Tops.
The great outdoors
An affordable way to spend time with the family while having fun in the great outdoors is by camping out in the Smoky Mountains. There are several locations to choose from within the park. For those who prefer a taste of the wilderness may want to consider camping out in the backcountry.
As for individuals less enthusiastic doing without certain amenities might want to consider the front country with access to running water and toilets.
In fact, you will find more attractions and things to do within the park than most of us can fit into a typical weekend. Having said that; here are a few attractions that should be not overlooked while visiting the park.
Places to see
The Mountain Farm Museum exhibits one of the most impressive collections of significant wood-framed structures. These incredible 19th-century dwellings were moved from the nearby mountains and coves to replicate a traditional farm from that time period.
Although not as famous as the Hoover Dam, but nevertheless still an impressive site worth a visit is the Fontana Dam. At a height of 480 feet and reservoir capacity of 11,700 acres, it is the tallest concrete dam east of the Rocky Mountains. The dam forms Fontana Lake along with a shoreline of approximately 240 miles and is accessible by boat only to remote areas within the park.
Clingmans Dome at 6,643 feet above sea level, is the highest point in Tennessee as well as the third tallest mountain east of the Mississippi River. Clingmans Dome Road features an incredible amount of beautiful scenery throughout the seven-mile stretch leading to the visitors center. From that point on, visitors can hike the half-mile path up to the summit's observation tower for some of the most breathtaking views of the Smoky Mountains. On an average day, it's possible to see up to twenty miles away; and on a clear day, as far as the eye can see.
Whenever you need a break from nature, consider some additional family fun with a visit to Pigeon Forge and Gatlinburg.  Among the most popular attractions is Dollywood, one of the top amusement parks in America that is sure to provide continuous entertainment to people of all ages. Hotels and restaurants can be found everywhere in both cities offering additional family discounts. Don't forget to visit the Ripley's Believe It or Not Museum in Gatlinburg. #Outdoors #Travel