Big Red Rooster releases three new projection alarm clock nightlights
Alarm clocks that double as nightlights via projection capabilities aim to work as sleeping aids for children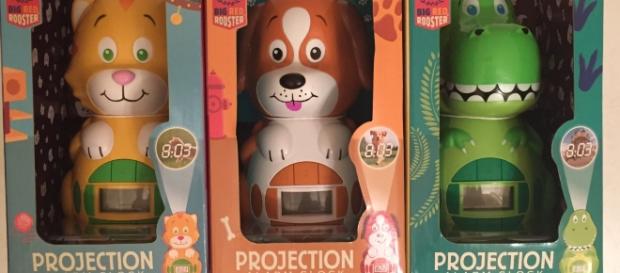 Bedtime can be stressful for children noting that fear of the dark is a very common phobia in youngsters. To combat such fears, toy companies ranging from Cloud b to Hasbro have come up with toys that emit melodies and soft lights.
Many of these products—like the "Twinkling Firefly Frog" and "Lullaby Glow Worm"—are intended for babies, however, and so an innovative startup brand known as Big Red Rooster decided to produce a line of nightlights that appeal to older children. These nightlights project relaxing images and they also serve as alarm clocks.
Background 
The alarm clock/nightlight trend began in early 2016 when Big Red Rooster introduced the "Rocket Ship Projection Alarm Clock" which proved to be very successful among both parents and children of various ages.
Noting the success of the alarm clock nightlight, the company decided to expand its wares in time for the holiday season.
In the Fall of 2016, the company released three new models; a Dinosaur, a Cat, and a Dog. All of the models stand eight inches tall and four inches wide and project sharp and colorful images that are thirty inches in diameter. All the alarm clocks have the ability to rotate and include four thrilling and cute images. 
Brian Johnson, the founder of Big Red Rooster, is also the inventor behind most of the items in the line and he was inspired to create these nightlight alarm clocks by his nephew who proudly displayed both an alarm clock and a nightlight that he loved. "I thought it was a good idea to combine both products,"
Brian Johnson explained. "I wanted to include four rotatable images to give kids options.
Three of the dog photos are pictures of my dogs, specifically the beagle and shepadoodle. My nieces and nephews helped pick the photos for the cat and dinosaur clock."
Upcoming 
Given the popularity of the products, Brian plans to create more in the future. A "wake up" alarm clock geared towards toddlers is already in the works and is scheduled to be released in the spring of 2017. Eventually, Brian hopes to expand the line into licensed characters. "Personally, my favorite clock so far is the dinosaur," he stated. "Sometimes the product you are developing turns out better than you envision it and that is the case with the dinosaur clock." #Toys & Games #Nightlights & Alarm Clocks #Sleep Aids