Woofpup: A company that celebrates dogs via virtual contests and plush toys
Woofpup gives dog lovers a chance to see their dog inspire the design of a stuffed toy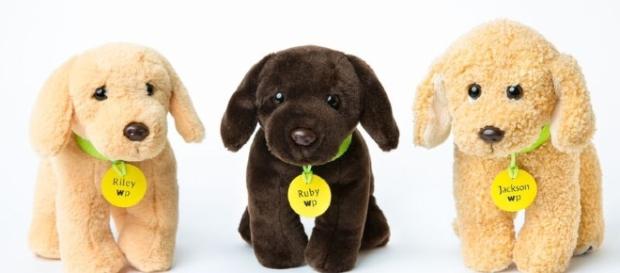 #Dogs are beloved pets to millions of people all over the world and a startup company called Woofpup is dedicated to celebrating the connections that humans have with their canine companions by enabling users to upload photos and stories pertaining to dogs. An inclusive online community, all one needs to do to join in is create a profile. Every month, the website will have a contest that aims to crown one lucky dog "Woofpup of the Month." The owner of the dog that wins this title will be awarded $500 and get an 8-inch stuffed toy made in the likeness of their dog--including a customized collar and name-tag---which will be available to the public via the store section on their official website.
Toys & contests 
The plush toys created by Woofpup are high quality and rendered to look like specific dogs; essentially, the company specializes in personalized plush toys. Woofpup is not alone in this market, Beverly Hills Teddy Bear and Budsies also offer high-quality custom-made plush toys that are designed to resemble a specific person, animal or thing. The twist with Woofpup is that the only stuffed toys they make are dogs and the only canines that are eligible to have their likeness depicted in a Woofpup toy are those who win one of the online contests. Woofpup is also not the first company to offer prizes based on pet pictures and voting. For example, a Long Island magazine known as Pet Lover has been promoting similar contests for years and awarding mainly cash prizes.
Although Woofpup also offers monetary rewards, the promise of modeling a stuffed toy after the winning dog is what makes the brand truly unique. Moreover, users who sign up as Premium Members will automatically receive the Pup-of-the-Month plush for a small monthly fee. "We're excited to give dog lovers a new and unique community to showcase their furry family members," said Brandon Palmer, CEO. As of August 2016, three plush Woofpups--named Ruby, Riley and Jackson--are available on the website. These models are rendered to resemble a golden retriever, a chocolate lab, and a fluffy golden doodle. 
History 
The innovative concept of creating a community for people who love dogs--and one that offers a monthly stuffed toy--came from the minds of Brandon Palmer's daughters, nine-year-old twins. "They inspired me to create the company because they loved looking at pictures of dogs online and I knew that there must be other families looking for dog-inspired family friendly fun," Brandon explained in a recent interview.
"When we started developing the idea for Woofpup more in depth, we sat down and brainstormed names and one of them mentioned Woofpup and it just fit! From conceptualization to launch, Woofpup has truly been a family-run operation with myself at the helm and my nephew Jason working next to me as the Chief Operating Officer (COO). Working together has made this extra special to us. Seeing a child's face light up when they see a plush Woofpup or a dog owners' excitement when they find out their dog could have a Woofpup made in its likeness is also rewarding!"
Future 
While quality plush dogs are produced by companies ranging from GUND to Stuffed With Plush, Woofpup hopes to become more than merely a toy producer--they want to be a community for dog lovers in the same way that "World of Warcraft" is a community for fantasy fans. In ten years, Brandon hopes that the company will be the largest and best platform for people to share pictures of their dogs. "We'd love to see all members fully involved in all that Woofpup has to offer," Brandon stated. "We really want to see people engaging with one another and having a community for people to regularly go to share their love of dogs. We'd also love to see kids with collections of Woofpups that they know and love! We hope that Woofpup is a site that people continuously return to, to engage with others and enter the contests, so if we still have our original members returning to the site, it will be a real win."  #Toys & Games #Animals