Singers Patricia Schuman, David Pittsinger present recital at The Glimmerglass Festival
The duo performed solos and duets from the American Songbook, numerous Broadway tunes, partnered by Kevin Miller at the piano.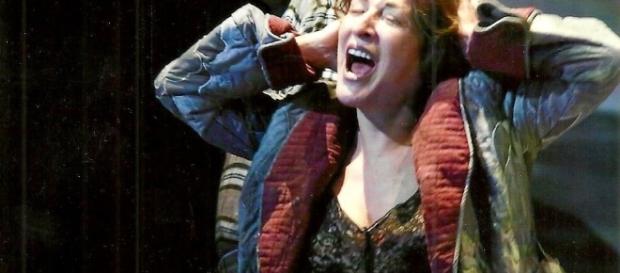 The Glimmerglass Festival boasts 42 Mainstage #Opera performances plus many tempting Second Stages offerings at moderate ticket prices. In the adjacent Pavilion performance space, July 25, mezzo-soprano Patricia Schuman and bass-baritone David Pittsinger engaged in playful banter for an attentive audience of a hundred or so and performed numerous #Broadway tunes. Joining them on piano, composer Kevin Miller proved to be a sensitive partner, who supported them as if breathing when they breathed.
Lots in common
Both singers currently appear in Mainstage opera productions, she as Beggar Woman (Lucy Barker) in Sweeney Todd and he as John Hale in The Crucible.
Both have fantastically rich, wide-ranging voices that they deftly deploy with excellent technique, plus that deeply moving quality sadly lacking in more and more singers nowadays: artistry.
What kind of life is this anyway?
Composer Kurt Weill and lyricist Alan Jay Lerner answered that question in their 1948 musical, Love Life, in an anthem titled "This Is the Life." David Pittsinger said that it concerns "the career sacrifices you make for your family and the sacrifices your family makes for your career." The pensive number starts wistfully, then waxes passionate, then angry and acerbic. Out gushes a bewildering story about the exterior influences on a performer's inner life and the personal tragedies he must mask under the spotlight. Gripping, moving, powerfully intoned with a resounding, rebounding voice.
The time they met
Both singers gave winsome background for each solo and duet, and told how these contain certain autobiographical elements. They also revealed that they are married (to each other), that they met while performing The Marriage of Figaro—a supposedly well-known story regrettably unfamiliar to this curious reviewer—and they have twins, Maria and Richard, who were present.
Falling in love
Patricia Schuman performed a lush reminiscence from Irving Berlin's Annie, Get Your Gun (1946), titled "I Got Lost in His Arms." The lyrics and lilting phrases suggest her personal discovery of David. Hers is a shimmery voice. The lower and middle ranges are highly suitable for sonic wallowing, and the gleaming top can "do" both power and pianissimo ravishingly well.
Duets (or playtime)
Playful duets bookended the recital. First was Cole Porter's "Wunderbar," from Kiss Me, Kate, the 1948 Shakespeare-based show within a show, with its competitive schtick—she criticizes his always flubbing a particular note—deliciously hammed up but not overdone.
(Oh, to be a fly on the wall for any real post-joint-performance conversations that start with the question: "What happened to you tonight?") The program ended with "There Once Was a Man," complete with western twang, from the 1954 musical The Pajama Game. Who cares if it was excessively hayseed? They had fun and the audience had a ball.
Bittersweet family changes
Particularly revealing was David Pittsinger's moving account of "The Pickers Are Comin'," from Gary Geld and Peter Udell's musical Shenandoah (1974), based on the 1965 eponymous film. The touching lyrics are rife with a father's obvious misgivings and his feelings of loss and abandonment over his daughter's impending marriage. Coming through Mr. Pittsinger's golden vocal cords, full of paternal feeling, it was heartwarming. A smile graced daughter Maria's face at times during the number, making one wonder if she is about to marry.
Consummate artists
David Pittsinger and Patricia Schuman, both at the height of their powers, obviously like each other, gobs, and relish the art of singing and performing. The mezzo told Blasting News that Sweeney Todd's Beggar Woman is a tiny role. "I try to make the most of it." Indeed she does. He also excels as John Hale in The Crucible. Here's hoping we'll see them again soon, whether in recital or in leading opera or musical theatre roles where they can simply pretend. #Everything Music and Theatre