Sasha Obama lands her first job for the summer
President Barack Obama's youngest daughter, Sasha, has a summer job working at a seafood restaurant.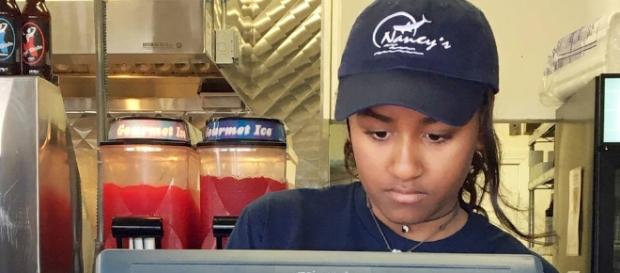 Sasha Obama has a summer job. The youngest daughter of President Barack Obama is working during the summer at Nancy's restaurant in Martha's Vineyard, Massachusetts. Customers who purchase food from the takeout window will be served by the 15-year-old first daughter.
Sasha Obama's first job
The owner of the seafood restaurant is a friend of the Obamas. Even so, the teen is treated just like any other employee. She was trained to bus tables, work the cash register, and perform other duties to get the establishment ready for its usual lunchtime rush. Needless to say, the Secret Service transports the teen to and from her job.
In fact, there are six agents watching her every move. She works just four hours a day several days a week usually during the morning and lunch time take out shifts.
Sasha is pictured in her uniform of khakis and a baseball cap. Since this is her first job, she uses her real name which is Natasha and not Sasha.
Why is Sasha Obama working?
The first daughter definitely doesn't need the money. Working at the restaurant is a learning experience for Sasha who has never worked before.  She seems to enjoy her temporary job that she will give up when her family gets to Martha's Vineyard on Saturday to start their vacation. They will be there through August 21.
Sasha is following in her older sister's footstep. Malia, now 18, had a couple of internships during her summer breaks. Her jobs were in television and show business.
In 2014, she worked as a production assistant on Halle Berry's CBS's Extant. The next year, she worked on the set of HBO's Girls.
Since Sasha's first job is in the restaurant industry, it would be interesting to see if she will stick with that type of work for her other summer jobs. Both of Malia's jobs in previous years were in the same category. However, this year is different for the June graduate who has landed her own internship at the U.S. Embassy in Spain. 
The recent graduate will attend Harvard University in 2017, after getting experience outside the classroom during her gap year.