Interview with the creators of 'SleeperHero,' a book and doll designed to help kids sleep
Sisters Annie and Meggie Richardson discuss their experiences creating a book and toy set that help children rest.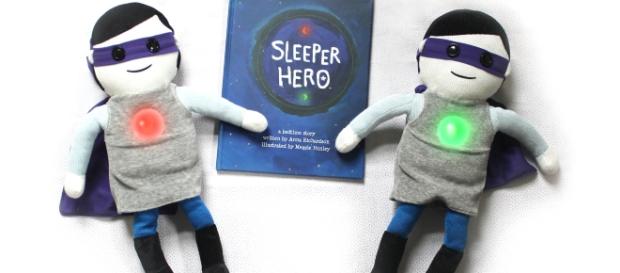 Bedtime can be stressful for children who are afraid of the dark or simply have trouble settling down. Noting this, mothers and sisters Annie and Meggie Richardson decided to use their skills as respective writers and graphic designers to create a book and accompanying toy that would help kids work through their fears. Hence, "SleeperHero" was created. "SleeperHero" is a storybook and doll that are specifically designed to help children with their sleeping routine. The set comes with a stuffed toy in superhero attire that has a light on its chest. When the light is red children must stay in bed and when it's green they can get up. The light is controlled by a timer on the back of the toy that adults can set.
The doll is similar to a traditional rag doll with button eyes yet its material is soft and obviously good quality. The book is well written with funny imagery conveyed via humorous rhyming text. Since its release onto the market, it has sold over 1,500 units globally and that number is increasing every day. Recently, Annie and Meggie Richardson discussed their experiences creating this book:
Background
Blasting News (BN): Why was your company name chosen?
Annie and Meggie Richardson (AN & MN): Our company name is Purple Pancakes, LLC. When we decided to create our company to launch our "SleeperHero" concept we were unsure what name to choose. Annie's daughter, Charlie, used the phrase "Purple Pancakes" as a password and it made us smile. There was also a symbolic nature to the password being the key that unlocked all her ideas, dreams, doodles and aspirations and a place to discuss problems.
We created our company to launch products that help solve universal problems. The name "Purple Pancakes" is also playful, fun to say and ultimately tied back to a family inside story. I think every family can relate to those sentiments. Plus, our family is at the heart of our business and our inspiration, so it's only fitting they inspired our company name, as well.
BN: What has been the most rewarding part of releasing the book?
AN & MN: Seeing the way the book delighted our kids and every single email, comment and message we get from fans telling us how it has literally changed their lives. It's incredible. Each note really means the world to us. Sleep is like air in the fact that you don't really realize how much you need it until it's taken from you. Compounding lack of sleep with the demands of busy lives and busy little children is exhausting. We get it, that's why we made this product. But it still amazes us to get such heartfelt feedback that it's helping others, too. 
Forthcoming 
BN: Do you plan to produce more books? 
AN & MN: We sure do! We'd love to create a girl version of the "SleeperHero." We also see the potential for an extended product line so that we could one day create multi-cultural "SleeperHero" versions and items like pajamas, sleeping bags and other bedtime goods. 
BN: Where do you hope to be in ten years? 
AN & MN: We'd love to continue to propel the SleeperHero product line to evolve with the needs of our changing world and see potential for other product inventions.
BN: What advice would you give to aspiring creators? 
AN & MN: Believe in your potential and follow your instincts. We are constantly learning as we go, but we started this company by taking a big risk and believing in ourselves, our ideas and our instincts. Don't be afraid to reach out to others and ask questions and seek advice. This industry is full of people that have walked the same tough road and asked the same tough questions and many are willing to share if you just seek it out. Come talk to us at the ABC Kids Expo in Vegas which takes place October 18 to 21, 2016.  #Interview #Toys & Games #Books & Authors