Explore the incredible beauty of Banff National Park and Lake Louise
Whether you enjoy skiing or hiking the great outdoors, you'll discover a magical setting that can be enjoyed by all.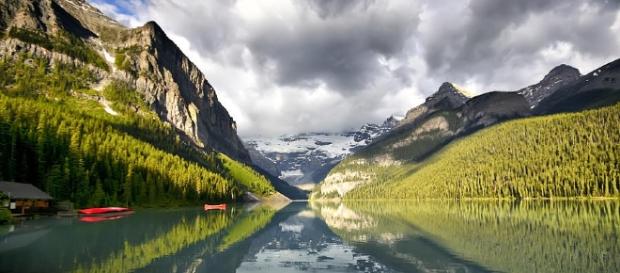 Banff National Park
Situated on the eastern side of the Canadian Rockies is Banff National Park, designated a UNESCO World Heritage site. The national park draws visitors from all corners of the world to its rocky mountain terrain, glaciers, dense forest, and breathtaking vistas. The region is home to the Sunshine Village, Norquay Mystic Ridge, and Lake Louise, three of Canada's premiere ski resorts.
A variety of shops, restaurants, and hotels are located in the town of Banff in which many of the visitors stay while visiting the area. Banff is home to the magnificent Fairmont Banff Springs Hotel looking over the neighboring valley. Visitors can choose to dine at a variety of fine dining restaurants.
You can't go wrong ordering Alberta prime rib a local specialty that is served in area restaurants together with a variety of side dishes. For those of you meat lovers can try a 24-ounce portion known to locals as mountain cuts.
The summer season provides visitors with a variety of outdoor activities that include hiking, horseback riding, fishing, golf, and spa that is naturally heated by means of the mountain's hot springs. The magnificent mountain views provide the perfect backdrop for outdoor activities. During the course of the winter season, the park transforms into a winter wonderland providing the perfect setting for skiing, snowboarding, dog sledding, and snowmobile tours. A shuttle service is provided by a number of hotels that transport skiers and snowboarders to any of the region's three ski resorts.
Lake Louise
Approximately 35 miles further within the mountain range is Lake Louise, one of North America's premier ski destinations. The ski resort is renowned for its world-class events such as the FIS Ski World Cup circuit oftentimes referred to as the Lake Louise Winterstart World Cup. Some of the world's top downhill skiers are drawn to this world-class event. Accommodations are made available at the extravagant Fairmont Chateau Lake Louise, located on the eastern shore of Lake Louise.
Throughout the winter season, the lake freezes over, turning into a giant skating rink and enjoyed by the multitude of visitors to the region. During the summer season, snow-capped peaks can be observed from the lake along with the iconic glacier which transforms into an emerald-green color. At specific times of the year, the lake produces a striking mirror-like image of the mountain and glacier. Visitors are provided to one of the most extraordinary and spectacular views in all of North America.
The Lake Louise Sightseeing Lift Gondola and Interpretive Centre offer a unique dining experience at the magnificent Lodge of Ten Peaks.
High from above at 6,850 feet, visitors can observe incredible vistas of the natural springs, towering glaciers, and a variety of wildlife such as grizzly bears, deer, and elk. A wide range of summer activities are made available to visitors such as guided walking tours and hiking trails. Winter activities at the resort feature cross-country skiing, snowboarding, snowshoeing, dog sledding, and ice skating. #Recreation #Travel