Build-A-Bear Workshop introduces 'Monster Mixters'
'Monster Mixters' are a brand new line of extremely personizable toys by Build-A-Bear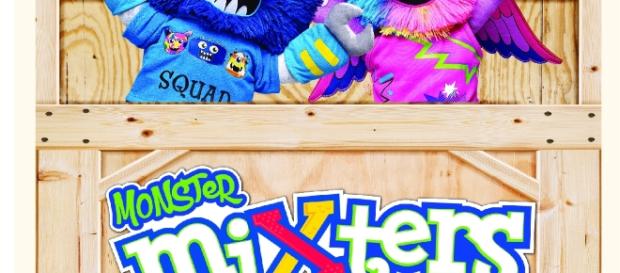 #Build-A-Bear Workshop is a company that enables children to customize their own plush toys in a whimsical store setting. Whilst other companies like Beverly Hills Teddy Bear and Budsies do offer customized toys, Build-A-Bear Workshop aims to provide guests with both toys and a memorable experience. Due to this unique set-up, in a span of less than twenty years the company has skyrocketed into toy-industry fame and now boasts an inventory of dozens of characters--both in-house and licensed--that appeal to both genders, stores in countries spanning the globe, and even a float in NYC's famous Macy's Thanksgiving Day Parade. In the summer of 2016, Build-A-Bear Workshop announced a new--and completely original--line of toys called "#Monster Mixters."
Meet the monsters 
The "Monster Mixters" line currently includes two characters: a blue model and a rainbow-hued one.
Although at first glance it might seem as if the blue one is a boy and the rainbow one is a girl, the characters can actually be considered gender-neutral. "While we took design cues that appeal to both boys and girls, we did not design them to be a boy or girl – all Monster Mixters can become whatever their creators want them to be," explained Managing Director, Brand, for Build-A-Bear Workshop, Marc Connor. "We encourage boys and girls to use their creativity to make each furry friend uniquely theirs."
Monster options 
The characters are intentionally nameless which gives children the option to christen their own monster however they choose. The Monster Mixters are, like all Build-A-Bear Workshop offerings, able to fit into mostly any of the dozens of clothing and accessory options available but what makes them truly unique is that their body parts are also customizable.
Essentially, the Mixters initially only have a head and a torso. Children can then choose between a number of options for legs, arms, feet, hands and even wings. This is certainly an innovative concept and one that has not previously been offered to Build-A-Bear Workshop patrons. "As we began to play with how we might make these furry friends more customizable, we realized that a monster theme gave us and guests tons of opportunity to imagine and play, because there were no 'rules' for how anything should look," Marc Connor stated. "It's a very simple, fun and open-ended experience to simply choose the body, arms and legs…and then even more fun to be able to add feet, hands, wings – and of course clothing."
Monster aspirations 
The Monster Mixters are made with very soft and high-quality fabric. Although they are monsters and are rendered with sharp teeth, they look friendly and playful rather than scary. Whilst the birth certificate option remains open to these characters, they come with an added bonus of a downloadable Mad-Libs style story that children can fill in to explain the origins of their monsters.
This is an option that is both fun and borderline educational since it will make children eager to master adjectives, verbs and nouns so they can fill in the story properly. While this line is brand new and still gaining momentum in the market, Build-A-Bear Workshop is optimistic about the future and has some forthcoming projects in the works. "We're very excited to celebrate National Teddy Bear Day next month on September 9," Marc Connor added. "We don't have specifics to share just yet, but we can tell you that guests should 'expect the unexpected' since we're going to try something we've never done before! We are also currently exploring the idea of adding new characters into the Monster Mixters line." #Toys & Games