Beer-pong robot 'Pongbot' launches on Kickstarter
Pongbot is a robotic invention that is intended to make the game of beer-pong more fun and challenging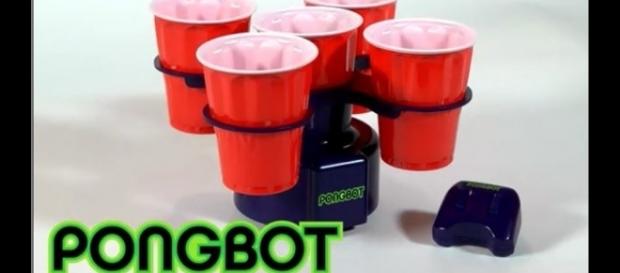 Beer pong is a popular party game that has been enjoyed for decades. Now, technology has made the game even more challenging--and entertaining--via "Pongbot," a robotic cup holder that adds a challenge to the traditional party game via moving and spinning targets. Pongbot is a battery-operated robot that can twirl up to five cups at once whilst also moving about at the base. Due to its edge-sensing technology, it can master this constant movement without falling off tables and other platforms. It also includes two modes for play, auto-mode and manual. The project is still in its very early stages and launched a #Kickstarter campaign to raise funds on August 22, 2016.
Ultimately, its creators hope to raise $100,000 to kick start its launch into the market.
Development  
Pongbot is the latest project by Alan Dorfman, the president and founder of Super Impulse, and Jayson Esterow who is the owner of License 2 Play. After attaining over twenty years of experience working with toys, games, novelty items and consumer products, both men instantly saw the potential for Pongbot which, although inspired by beer-pong, can be played with non-alcoholic beverages such as water, soda and juice--or even be played without any liquids at all. Hence, it is an item that can interest people of all ages via its easy gameplay. "We came up with the idea for the Pongbot five years ago," said Jayson Esterow. "We were visiting the offices of two inventor brothers and saw an idea for a sensory cup holder for beer pong written in their notebook.
We thought it was a really cool idea and decided to invest in its development." 
Campaign 
While Pongbot is quite unique and innovative, it calls to mind physical beer-pong playing robots like Versaball and Roomba Pong, which is essentially a means of playing beer pong via the use of a Roomba vacuum. However, Pongbot is the first item intended specifically for the game. Although the Kickstarter has yet to be funded, the creators are already thinking of ways to evolve the product for future versions. "If all goes well, we hope to expand Pongbot to be able to handle eight cups or even ten," said Jayson. "We would like to keep expanding it as technology improves. App-based controls and other elements are absolutely possible considering how versatile sensory technology is, but everything depends on how this initial version is received. We're in the home stretch now and just need the extra money to cover the costs of inventory." If the Kickstarter is successful in reaching its $100,000 goal, Pongbots will be shipped to backers in the United States by December 2016--just in time for the holidays. "The most rewarding part of working with Pongbot is sinking the ball into the apparatus," Alan Dorfman said jokingly. "Seriously, though, it is a fun game and we hope that in ten or fifteen years from now it's a staple form of entertainment at parties." #Toys & Games #Robots & Technology