Young love is center stage in bittersweet opera 'La bohème' opening at Glimmerglass July 8
Young people fall in and out of love in Giacomo Puccini's timeless tale in a new Belle Époque Paris setting at Glimmerglass.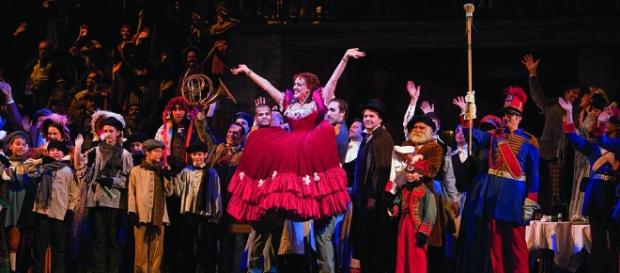 Friday, July 8, in Cooperstown, New York, The Glimmerglass Festival opens with its first of 42 opera performances: Giacomo Puccini's universally loved La bohème. This timeless piece set in Belle Époque Paris is a tale of young love that starts and stops, and starts and … Well, everyone can identify with it.
Operabase, a fantastic online resource, lists La bohème's 523 worldwide performances in the 2014-15 season in third place among the top ten operas. It's likely been a top-three #Opera every year for the past quarter century at least.
A great opera for newbies?
Many recommend La bohème for first-timers, but it wouldn't have been a good choice for me.
I first needed to "stretch" my ears beyond Mozart and Haydn's delicate, elegantly refined sound world to grasp Puccini's much more robust composing style. Until then, all I heard in La bohème was dissonance and "noise."
One day I heard a lecture about another great Puccini opera, Madama Butterfly—even noisier to my ears back then—that explained the composer's particular way of conveying drama through music. With that understanding I could then prompt my ears to listen for specific effects at particular musical moments.
La bohème's universal appeal
Countless opera virgins embrace La bohème right away because it's an uncomplicated love story of ordinary young people struggling to make their way in life. The poet Rodolfo and his new neighbor, the seamstress Mimì, have our attention. Theirs is a bittersweet love with music of straightforward, heart-on-the-sleeve simplicity.
A stormy secondary couple—the jealous painter Marcello and the flirtatious singer Musetta—provide vivid contrast. To characterize them and their passion, Puccini composed music that can seem strident, especially when one's ears are drawn primarily to lush bel canto operas by Donizetti, Bellini and Rossini.
The ah-ha moment
Once my ears accommodated Puccini's hallmark musical style, I finally "got" La bohème and could see why so many opera-goers—both veterans and initiates—are drawn to it. You can too if you focus on Rodolfo and Mimì's music. Only in Act III does theirs become noisy, but that's because Puccini ingeniously juxtaposes their tender parting duet simultaneously with an intense, lowlife spat between—yep—Marcello and Musetta.
In defense of Marcello and Musetta
That's not to say that their music is all cacophony. Not at all. Marcello's gorgeous Act IV duet with Rodolfo is all warmth, longing and regret. Musetta's Act II aria is a showstopper, and I would almost bet you will recognize its tune even if you haven't had much exposure to opera.
Plus, headstrong Musetta totally transforms in Act IV, becoming one of opera's noblest characters, doing something wholly unselfish and showing her true heart. That moment and the genius of the Act III quartet aren't so easily perceived through listening or reading alone, which are my approach to every opera. But seeing it portrayed onstage … Ah! Everything makes sense. La bohème is great theatre and gorgeous music.
So will you like it?
Most likely you will. The opera has so many high points:
Rodolfo's introduction aria to Mimì, "Che gelida manina" (What a cold little hand)
Mimì's demure response aria, introducing herself, "Sì, mi chiamano Mimì" (Yes, they call me Mimì)
Their ethereal love duet "O soave fanciulla" (Oh lovely girl!), which quietly closes Act I
Musetta's waltz in Act II, "Quando m'en vo' soletta" (When I'm out strolling alone)
Mimí's good-bye aria to Rodolfo in Act III, "Donde lieta uscì" (From here she happily left), right before their beautiful duet becomes that noisy quartet
Marcello and Rodolfo's Act IV duet, "O Mimì, tu più non torni" (Oh Mimì, will you not come back?)
Any ardent tenor can pierce my heart in Act III with just the right inflection on Rodolfo's phrase to Marcello "Ma ho paura" (But I'm afraid), overheard by Mimì. And there are other moments aplenty of poignancy punctuated perfectly by Puccini's particular brand of music theatre. Try it and see for yourself. #Everything Music and Theatre