Urban's single marks sixth straight week with new Country Number One
This marks the sixth straight week with a new Number One on the BDS/Nielsen Country Airplay Chart.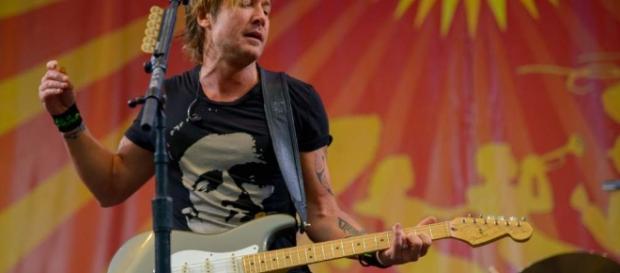 After getting jumped last week by Jason Aldean's "Lights Come On," Keith Urban's EDM/Country hybrid single "Wasted Time" returns the favor, jumping 3-1 while Jason Aldean holds at number two.  This marks the sixth straight week with a new number one on the BDS/Nielsen Country Airplay Chart. Urban's single also ranks number one on Mediabase's Country Rate The #Music survey (3.96 out of five points and a 17 percent burnout rate), which measures listener feedback among fans loyal to the Country format. 
Even though "Wasted Time" has reached the Top 25 on Adult Top 40 radio in Canada, Urban's song has yet to attract any significant crossover airplay in the U.S.  In other Keith Urban related news, he just celebrated his ten-year anniversary to Nicole Kidman, and paid tribute to the late Glenn Frey online.
Highlighting recent rapid turnover on Country Airplay Chart
Since Dierks Bentley's "Somewhere on a Beach" (which re-enters the Top Ten this week) finished its two-week run on top six weeks ago, five one-week Number Ones have rotated in and out of the top spot on the Country Airplay Chart.  However, based on Mediabase Country airplay data after four of the seven tracking days for this coming week, Urban is still gaining in audience.  Therefore, "Wasted Time" looks likely to finally slow down the revolving door at number one at Country radio, at least for a week. 
In fact, Urban's gain of 4.958 million impressions over last week finishes second for the week only to Carrie Underwood's "Church Bells," which gained 5 million in audience from the week before.   The last song to reach three weeks at number one is Cole Swindell's "You Should Be Here," which achieved the hat trick this spring.
'H.O.L.Y.' three weeks away from number one
Should Underwood and/or Aldean fail to displace Urban, the next number one on Country Airplay is likely Florida Georgia Line's (FGL) "H.O.L.Y." in three weeks.  FGL has led Billboard's Hot Country Songs Chart now for eight straight weeks.  FGL's song maintains its huge lead over the rest of the Country singles in both sales and streaming, and has begun receiving crossover airplay at Adult Contemporary and Adult Top 40. 
FGL's only mediocre metric right now is Mediabase's Rate The Music, where the song ranks at 13 out of 30 (3.66 out of five points and 28 percent burnout rate).  Perhaps poor callout scores have held "H.O.L.Y." back from climbing more quickly at Country radio.
Top 30 Country Airplay Songs week ending June 26
Here are the Top 30 most-heard songs at Country Radio according to BDS/Nielsen for the seven-day tracking period ending June 26.  This list ranks the tracks by audience, with totals in millions of impressions provided next to the artist's' name, and ranking current and recurrent singles together.
Wasted Time – Keith Urban – 46.059 (week one at Number One)
Lights Come On – Jason Aldean – 44.668
Church Bells – Carrie Underwood – 41.766
Huntin', Fishin' & Loving Every Day – Luke Bryan – 40.347
H.O.L.Y. – Florida-Georgia Line – 35.931
Record Year – Eric Church – 33.431
T-Shirt – Thomas Rhett – 33.298
Noise – Kenny Chesney – 31.983
Head Over Boots – Jon Pardi – 30.413
Somewhere On A Beach – Dierks Bentley – 29.623
Came Here To Forget – Blake Shelton – 28.945
Humble And Kind – Tim McGraw – 27.444
Fix – Chris Lane – 26.765
Think Of You – Chris Young/Cassadee Pope – 25.354
From The Ground Up – Dan + Shay 24.435
American Country Love Song – Jake Owen – 22.765
Make You Miss Me – Sam Hunt – 21.732
Night's On Fire – David Nail – 21.273
Snapback – Old Dominion – 21.245
It All Started With A Beer – Frankie Ballard – 19.767
You Look Like I Need A Drink – Justin Moore – 19.639
Peter Pan – Kelsea Ballerini – 18.168
Die A Happy Man – Thomas Rhett – 18.062
Mind Reader – Justin Lynch – 17.043
Running For You – Chris Moore – 16.321
I Like The Sound Of That – Rascal Flatts – 15.509
My Church – Maren Morris – 14.800
You Should Be Here – Cole Swindell – 14.641
Without A Fight – Brad Paisley/Demi Lovato – 14.581
Castaway – Zac Brown Band – 14.163