Night activities continue at Disney's Animal Kingdom
Walt Disney World theme park offers after-hours safari, rides, and entertainment.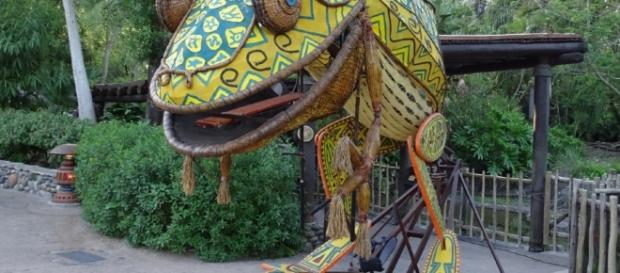 #Disney's Animal Kingdom continues to be a nighttime hot spot at Walt Disney World as the summer tourist season hits its mid-point. Earlier this year, the theme park added a number of evening activities for guests to enjoy in its extended hours, including a limited-time live Jungle Book show, dark rides on Expedition Everest, and Kali River Rapids, lively entertainers, and safaris framed by a permanent sunset. This expansion has added to the appeal of what was once considered a daytime attraction, giving guests a fourth option for night activities at the Disney parks.
Tree of Life at Disney lives up to its name
Many of the after-dark attractions at Disney's Animal Kingdom are extensions of existing features and attractions.
For example, the Tree of Life as long been the icon of this Disney park. Visitors during the day marvel at the animal menagerie carved in its surface. At night, it takes on a life of its own, periodically 'awakening' to tell stories via music and projection technology, as shown in the sample vignettes below:
Kilimanjaro Safaris is also a daytime favorite adapted into a new nighttime version. Disney's Animal Kingdom has a diverse selection of animals that guests can view in the spacious natural habitats. However, some are not too active during the daytime #Florida heat. At night, nocturnal animals and species that prefer a cooler climate give the safari ride an entirely different character. Rather than taking place in total darkness, the safari vehicles traverse a savanna permanently bathed in a golden sunset courtesy of a little Walt Disney World magic.
That makes them easier for guests to spot, and the safari truck drivers are also experts at pointing out some of the more stealthy critters.
New perspective on Disney's Animal Kingdom rides
Disney's Animal Kingdom has many popular rides, including the Kali River Rapids raft ride and the Expedition Everest roller coaster. Both take on an entirely different character after the sun goes down. The river ride feels even more exciting in the dark, and Expedition Everest offers a stunning view from the top of its almost 200 foot tall lift hill, with iconic Spaceship Earth at Epcot set among the twinkling lights of the resort. The parts of the ride that take place indoors are dark during the day but turn riders completely blind and disoriented at night, making the Yeti seem even more menacing when he suddenly towers up in their sight.
Some of the nighttime activities at Disney's Animal Kingdom were created exclusively for the park's new extended hours. For example, Disney unleashes a host of entertainers in the park to add a street festival atmosphere.
The park also introduced a live show based on this summer's popular Jungle Book movie. It includes storytellers, singers, dancers and water effects that highlight favorite scenes and songs from the film, as you can see in the video below:
New Disney experience still ahead
The show is on tap for a limited time at Disney's Animal Kingdom and will eventually be replaced by the eagerly anticipated Rivers of Light some time this fall. Rivers of Light will have similar effects on the water, set to a swelling soundtrack, as well as boats and lanterns that light of the Discovery River waterway as animal spirits honor the connection of all life on earth. Although Disney hasn't set an official date for the show's debut yet, you can see a little sampling in the video below:
The video below offers a full overview of nighttime at Disney's Animal Kingdom. Most of the special activities run every night, but the date for Rivers of Light is still to be announced. The park's hours vary, so always check the exact hours during the dates of your visit to Florida and Walt Disney World: