Mako roller coaster opens at SeaWorld Orlando
SeaWorld theme park in Florida pays tribute to sharks with new 200 foot ride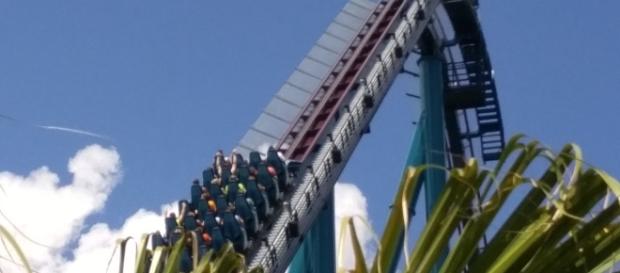 There's a new ride in town in Orlando, and you'll see it as soon as you get near SeaWorld, as its lift hill towers 200 feet above the ground. The new roller coaster, Mako, opened last month and has gained a reputation among thrill seekers. Its design maximizes 'air time,' or the times when riders pop up out of their seats. It's an experience sought out by roller coaster fans, and you can see it for yourself in this on-ride video:
Roller coaster named for a shark
Mako is themed to its namesake shark, and the ride aims to mimic the sea creature's effortless gliding through the water. It has a 200 foot first hill that sends riders plummeted down at speeds of up to 70 miles per hour.
Instead of having over-the-shoulder harnesses or other restrictive restraints, it has lap bars that keep riders safe while still allowing them to experience the air time.
SeaWorld Orlando doesn't have any live mako sharks, but it has plenty of their cousins in the aquarium in the Shark Wreck Reef area. Guests can walk through the aquarium and be surrounded by sharks in a long glass tube. They can also fine at Sharks Underwater Grill, the park's premiere restaurant where diners eat in front of huge display windows as the stealthy predators glide by.
Mako is the end result of in-depth planning by the park.Vice President of Theme Park Development Mike Denninger was on hand at the park to talk about its design:
Brian Morrow shared the tidbit that the team who created Apollo's Chariot at Busch Gardens Williamsburg reunited to create this new roller coaster for Orlando:
Mako mural promotes conservation
Mako delivers thrills, but it's also in line with the conservation message that runs through everything at SeaWorld Orlando.
Famed artist and conservationist Guy Harvey even came out for the roller coaster's grade opening and hand painted a colorful shark-themed mural. He shared his thoughts on sharks and the new SeaWorld ride while he was at the park:
Because this ride is the new kid on the block in Orlando, lines get long very quickly. SeaWorld is conveniently located just off I-4 between Walt Disney World and Universal Orlando Resort. Get to the theme park as early as possible and head right to Shark Wreck Reef to minimize your wait. #Travel #Florida