Living life in an Earthship is all about the freedom
Beavers and wasps can make their homes out of sustainable materials; why can't we?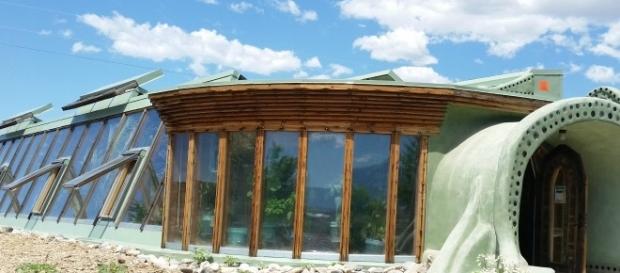 When most people think of living in an Earthship, they probably imagine a home straight out of science fiction. Not at all. Earthships are built all around the world and the community outside of Taos, NM is doing it right. These structures are off-the-grid passive solar homes that are made out of natural and recycled materials such as tires, bottles, cans, appliance panels; and are all held together with adobe, straw, and concrete, just as many of our ancestors have built their homes that are still standing to this day. Who would not want to live in a house where, when a face is washed, the plants are watered? When the dinner dishes are done, the vegetable garden is nourished.
These brilliant structures provide year around comfort. It can be 90 degrees outside and a cool 70-72 degrees inside. During the winter, the home stays so warm that most homeowners only use a wood fireplace for holidays.
Biology and architecture.
Architect and brainchild of Earthship Biotecture, Michael Reynolds, built his first Earthship in the very early 70's. He has never stopped trying to show people how they can live a life of freedom. There are no utility bills and homeowners are completely free of water, electric and gas bills. It is just the simplicity of how life is meant to be enjoyed. Trapped with being hooked up to the city's water and power grids is not a guarantee. Who knows if those resources are always going to be there?
Earthship life is not without its luxuries.
Visitors drive around the Earthship Community outside Taos and find that some homes resemble the 'Star Wars' Luke Skywalker dwellings on Tatooine, while others are gorgeous houses of adobe, wood, tiles, and shimmering stained glass looking walls.
Families enjoy a life there with swing sets and trampolines. Some are a bit more extravagant with two story greenhouses, fish ponds, waterfalls, birds and it's own ecosystem. In many of these homes, there are tropical plants and home-grown foods like banana trees and pineapples. Most homes have a satellite dishes to provide wi-fi and TV and phones. The kitchens are fully functional with stoves, ovens, refrigerators, and as much or as little elegance as one wants. Wood is used for the structure of the doorway and often the beams on the ceiling.
It is all about shelter, sanitation, and clean water.
How can a home in the high desert of New Mexico survive on just the rain water collected? It's real. It works. The water is filtered through completely botanical ways and is used four times. First, it provides clean and delicious filtered water for drinking, cooking, showers, and other uses. Then, with the use of pumps, what is known as gray water is used to water the greenhouse area with the plants and growing food, and is also used to flush the toilets.
Then what is known as black water, is processed naturally and flushed out into a leach field without any odor what-so-ever. This is the fourth use where used water ends up in the leach field to grow even more plants such as shrubs and trees. How amazing is this?
Reynolds is always fighting the fight.
While Michael Reynolds was fighting the New Mexico powers that be to continue to legally build these amazing homes, he and some of his passionate staff went to help out tsunami survivors to teach them how to build their own Earthships. They were beyond thrilled to find out that they could use the garbage laying around after the disaster to make safe buildings that will catch and store clean water, and safely get rid of sewage. After years of court battles, he eventually won over the governor and the courts once they saw the obvious benefits. Yet still today, he travels the world to help others find that freedom. Reynolds can be found riding his motorcycle with his gray hair flying in the wind. In speaking to some of his employees, he is full of energy, passionate, and kind. He lives in his own Earthship in Taos, NM with his wife and often hangs out at the Taos Inn taking in some live music. #Renewable Energy #Environment #ClimateChange