Legoland Florida updates Daytona International Speedway in Miniland USA
Make-A-Wish kid beats NASCAR driver Casey Mears in Miniland 400 race at the park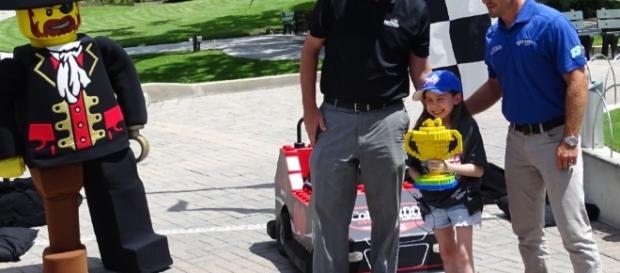 Legoland #Florida just celebrated the latest addition to its Miniland USA exhibit: an updated version of the Daytona International Speedway that aligns with the $400 million Daytona Rising project that transformed it into the 'World Center of Racing.' Its debut was celebrated with a bit of friendly competition between NASCAR driver Casey Mears and 10-year-old Layla Popoff, a Make-A-Wish child visiting the park in conjunction with the Merlin's Magic Wand charity.
Low-speed victory against NASCAR driver
Mears put up a good battle, but Popoff managed to seal the victory. At a top speed of just under four miles per hour, the cars didn't quite match the blinding speeds achieved on the real Daytona track, but it was still a hard fought competition, with Popoff piloting her Coke Zero 400 Lego-themed car ahead of Mears's No.13 GEICO vehicle.
Legoland general manager Adrian Jones pointed out that the race's outcome fit perfectly with Legoland Florida's aim. He said, "We're a theme park built for kids to take the lead, and that's exactly what happened here today. Brilliant!"
You can see the full race for yourself in the video below, where Popoff shows that she's got the right stuff to take on a NASCAR professional:
The park is packed with kid-sized rides, like Coastersaurus, the Royal Joust, Safari Trek, Flight School, and of course Driving School, where any kid can get behind the wheel and pilot free-driving Lego cars. Good junior drivers even earn a license.
The new version of the Daytona race track is part of the sprawling Miniland USA section, which is a Lego fanatic's dream come to life. The section showcases various iconic cities and spots in Florida and around the United States, including New York, Las Vegas, and Washington D.C.
Master Model Builder Luke Phillips was on hand at the Daytona Rising model's kick-off to share some insights on what it takes to put together such an impressive scene:
As Phillips notes in the video, the stands alone required 300,000 bricks, and the fans were built with another 100,000 (and a lot of patience).
Something for Star Wars fans
While Miniland USA is mostly focused on the real world, there's also a section devoted to a certain galaxy far, far away. The video below shows some of the highlights of the Star Wars section at Legoland Florida, where animated models delight fans of the movie series:
The rides, Miniland USA, shows, activities, and access to the Cypress Gardens area are all included with Legoland Florida admission tickets. #Travel