Gaylord Palms to host Chinese artisans for Ice! display
Craftsman travel to Orlando in October to create carvings at resort's annual event.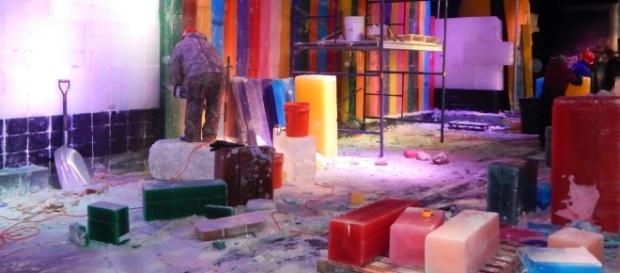 The Gaylord Palms Resort in Orlando will soon host Chinese artisans from the town of Harbin who visit #Florida yearly to create sculptures for the annual Ice! event. The resort recently announced that this year's theme is 'A Charlie Brown Christmas.' The sculptors will bring scenes from the TV classic to life, starting their work in late October, just as they've done for past themes like 'Merry Madagascar,' 'Frosty the Snowman,' and 'Twas the Night Before Christmas.' It takes weeks to create the themed sculptures, as well as a breathtaking clear-ice nativity that acts as the grand finale each year. Ice! opens to the public on November 18, 2016, and runs through January 1st this year.
From China to the Gaylord Palms
Below you'll see the artisans arrive at the Gaylord Palms Resort in Orlando after a long journey from Harbin. Their hometown is well known in China for its winter festival featuring some of the world's most impressive ice creations. The sculptors learn their craft from older family members who pass it down throughout the generations. In the video, the artisans talk about what it's like to visit Florida each year and face a new challenge crafting scenes from the chosen Ice! theme:
Amazing ice sculptures in Orlando
Along with the Chinese craftsmen, the Gaylord Palms Resort in Orlando will receive the massive blocks of ice that will eventually be whittled down into delicate set pieces. It takes weeks of painstaking work to create figures and props from each of the colored ice blocks.
Go behind the scenes in the video below to see last year's preparation for 'Twas the Night Before Christmas.' Not only do the artisans create displays, but they also craft the giant slides that are a hallmark of the Ice! event. Every year, kids of all ages rocket down the ice slides in the middle of the exhibit.
See artisans live in Ice! display
Guests at the Gaylord Palms Resort in Orlando don't normally get to go behind the scenes and see how the sculptures for Ice! are created. They do see a movie before heading into the exhibit, and they also get a treat towards the end. Each year, the Frostbite Factory section has Chinese artisans on hand creating additional sculptures. You never know what you might see them working on when you come through the display or how far along they'll be in their work. While they don't speak English, they understand the universal language of a smile of admiration. You can get a glimpse of the Frostbite Factory in the clip below:
You can see them live starting on November 18. The Gaylord Palms Resort, which is conveniently located right outside of Walt Disney World, offers special Christmas packages for guests who want to stay overnight. Otherwise, you can purchase day tickets for Ice! and the other holiday activities, including snow tubing and gingerbread decorating, and catch the free Cirque Dreams Unwrapped show that runs throughout the event. #Travel