4 ways to honor the fallen without ruining the fun this Memorial Day
Four tips to remember the spirit of Memorial Day and have a blast simultaneously.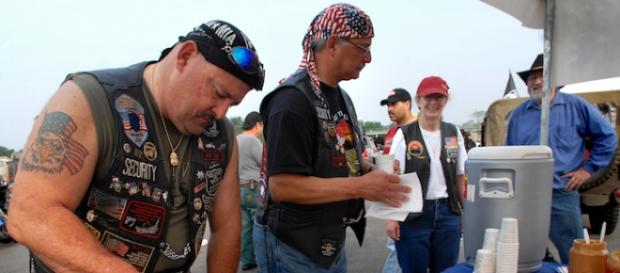 Memorial Day is here and it's a time when families get together to celebrate the sunshine, feast on barbecue and bask in the waves. However, amidst all of this pleasure, people tend to forget the sacrifice that the holiday represents. Memorial Day is a day to recognize the troops who have died in service to our country. So here are few tips to honor the fallen while also celebrating life.
1. Barbecue bliss
While you are at the family barbecue, set up an outdoor television and tune in to one of the many news stations that are broadcasting President #Obama's trip to Arlington National Cemetery to lay a reef at the Tomb of the Unknowns.
Then before you eat, have a moment of silence to honor the fallen. It's two small steps that won't hamper your fun, but also puts the day in perspective.
Obama lays wreath at Tomb of Unknown Solider https://t.co/Vdduhyrbjx pic.twitter.com/LYQk9Mj3SR

— JUAN VENDEDOR (@juanvendedor) May 30, 2016
2. Invite a veteran
If you are planning a family outing, find a relative who has served in the armed forces, invite him or her to whatever get together you are having and make that person feel like an honored guest. Serve that person their meal first, have a toast recognizing their contribution and thank them for their sacrifice. Teach your children that freedom isn't free by letting your honored guest share a war story. It will make the get together much more rewarding and you and your family will be celebrating the true meaning of Memorial Day.
Great Veterans Day at Trocaire! US Air Force honor guard flag folding ceremony & barbecue. pic.twitter.com/DS9be3StlC

— Trocaire College (@TrocaireCollege) November 13, 2014
3. Visit a war memorial
If you live in a large city, there are plenty of war memorials open today to honor veterans. There are veterans from every generation from World War I to the Iraq War. Visit a war memorial and lay a flag at a gravesite. If one of your family members is one of the fallen, honor their memory by visiting their tombstone. Then share a story with your family about how great that person was. It's a great way to keep him or her alive even though he or she is no longer with us.
Difficult conversation with the kids about war after trip to National War Memorial #Canberra pic.twitter.com/KRXVpkOvMW

— Bubs on the Move (@BubsontheMove) January 21, 2015
4. Have as much fun as possible
Aside from hearing the gory details of war, it's important to remember that death is also a celebration of life. Think of the things, no matter how mundane, that you get to do that others no longer have the opportunity to do.
If you have children, be grateful that you get to raise them. If you have elderly parents, be grateful that you still have the privilege of their company. If you have a job, be grateful that you have a day off, but also appreciate that work is a privilege and it affords you comforts to make your life better. If you're going to wash your car today, appreciate that you have a car to wash. There are so many benefits to being alive and to remember that, ask each person before they eat to name one thing they are grateful for. Then, jump into a pool and have the time of your life #Government #military