Top Places to Visit in Canada - Part 2
From west coast seascapes to the prairies and beyond, Canada holds the key to incredible vacations.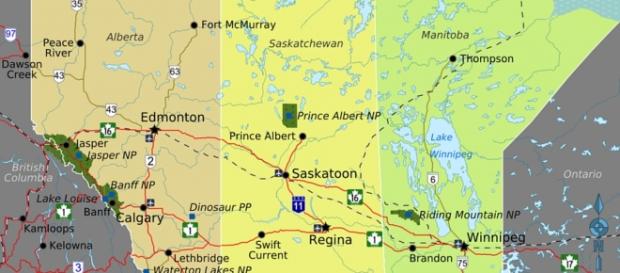 In the first article in this #Travel series in #Canada, we started at the West Coast with Victoria, the capital of British Columbia and ended in Drumheller, Alberta with the dinosaurs of long ago. Today will proceed to Calgary, Alberta with its annual Stampede and move east through the prairies. 
(Scroll down to read where to travel across Canada)
The Prairie Provinces
#1 Calgary, Alberta. Not too far from Drumheller and the dinosaurs lies an incredible metropolis called Calgary. This is truly a western style city with all the accoutrements of restaurants, rodeos, and ranch paraphernalia. Here you can take in the world famous Calgary Stampede, which is held each July.
This is truly a world class rodeo. Calgary itself is a sprawling city where business and entrepreneurship is alive and well. Dragon's Den star Arlene Dickinson has her business here.
====================
#2 Edmonton, Alberta. Edmonton is home to the West Edmonton Mall, one of the largest in North America. Here you can take in swimming in the gigantic beach and wave pool along with amusement rides that will thrill you. Edmonton has much more to offer than just the #Shopping. To the south in the town of Leduc, the start of the oil rush began. The history of the area is absolutely amazing and not to be missed.
====================
#3 Regina, Saskatchewan. This city holds the RCMP Heritage Museum. If you are into history, this is a definite stop. The RCMP is the original policing force in Canada and is famous for their Ride Show.
If you caught the Stampede in Calgary, then you have likely seen the ride. Beyond Regina, you can explore the Grasslands National Park, a place where the Bison still roam freely and you can catch a glimpse of prairie dogs and ferrets! Don't forget to get your fill of Saskatoon berries - a delicious prairie treat.
====================
#4 Saskatoon, Saskatchewan. Just a short drive from Regina lies the city of Saskatoon. The city boasts of having the longest indoor street in North America. Understandable because of the severe prairie winters. Take in the Western Development Museum for 1910 Boomtown on this amazing street. There is nothing like taking a walk through history.
====================
#5 Winnipeg, Manitoba. Winnipeg brings us more great places to visit with the Assiniboine Park Zoo and botanical garden, the Canadian Museum for Human Rights, Saint Boniface Cathedral, and much more. Winnipeg is the capital of Manitoba, the most eastern prairie province. Be sure to look for the unique 20th-century architecture and a plethora of art galleries.
More Heading East
This concludes our trip through the prairies and in the next article we will be exploring the great province of Ontario.
More Travel Articles on Blasting News:
Please leave a comment below - we want to know where you have traveled in Canada.
The Top 10 Places to Visit in the USA This Summer - Part 1
The Final 5 of the 10 Places to Visit in the USA This Summer - Part 2