Kickstarter campaign starts today to bring back robes to Men's closets
Functional style product allows men to have other style options to relax at home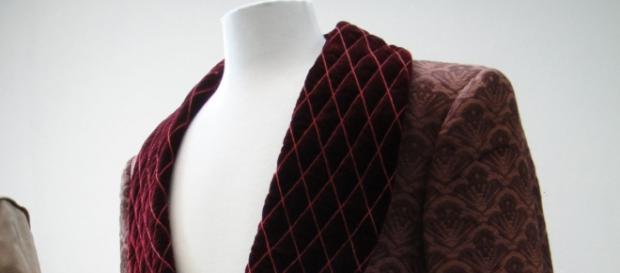 Fashion Designer Kimberly Rosa has created a Kickstarter campaign which launches today, March 10th, to fund development of the Bold Robe, a functional product that would bring back a wardrobe staple of men from the past. This product offers style options for a man's closet that tends to become stale with similar clothes that are used for multiple occassions. 
Bold Robe changes stigma
The Bold Robe is different from one's traditional view of a robe, e.g. your grandfather reading by the fireplace smoking a pipe or a Hollywood movie character with his starlet drinking champagne in terrycloth robes at a swanky hotel. The truth is, terrycloth robes are very heavy and the user will get too hot after a while and take it off, maybe even never use it again (especially in tropical climates like Hawaii or Miami).
The Bold Robe fabric is a softer fabric in a knit (t-shirt) or a woven (dress shirt). Her husband Dan supplied the "mullet design" of the robe which makes it look like a regular shirt up top with a collar and buttons with the robe on the bottom wrapped in a sash. The soft fabric doesn't denote that the robe "won't feel like a robe" or will be flimsy. Looking at the Kickstarter page, Rosa shows the construction and design in detail and shows different ways that the robe can be worn to increase its functionality. 
Men have style "worlds" that must be preserved
For Miami men, the soft, breathable fabric in the Bold Robe can be a great substitute to the routine gym shorts & t-shirt combo to bum around the house with after work or on the weekend. In the humid weather of Miami, there is nothing like wearing shorts and a shirt to be comfortable around the house, but many men have taken to the streets around town to run errands, get coffee, and even be at a social event with their girlfriends when the perception appears that the man just rolled out of bed without preparing himself.
Having the option of wearing a robe around the house brings back the feeling of privacy -- a man can walk around his house in a robe barely clothed and relax from the stresses and demands of life. Then, when he prepares to go out into the world, he will prepare his visual silhouette according to what is dictated by his sense of style. This point highlights an overriding point of men's style that the "casual friday" trend of the 60's blurred -- men have style worlds (professional, social, private). If a man begins to blur his worlds, it blurs his visual silhouette and social perceptions begin to take notice of him whether he wants it or not. The whole aim of having a sense of style is to allow him to be the best version of himself within the context of the world he inhabits. He must protect himself at times and relax in others.  #Shopping #Travel