Faro: More Than Just an Airport
On Portugal's eastern Algarve flight destination Faro is worth exploring in its own right, argues Carolyn Waudby.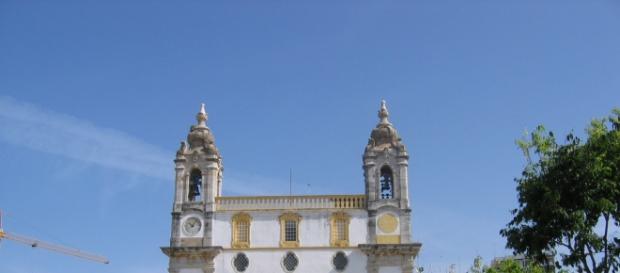 Most holidaymakers visiting the Algarve fly into Faro and head west for the golf courses and resorts. But Faro town is rich in history and culture and makes an excellent base for exploring the lesser-visited eastern section of Portuguese coast.
Despite being destroyed by a massive earthquake in 1755, Faro boasts a large marina, an old walled town and dazzling churches.
Eager to explore what had been merely been a name on the information boards at airports, we booked three nights at the friendly Residencial Algarve Sol.
We began our sightseeing with a visit to the ornate Baroque Igreja do Carmo.
This twin-turreted, stucco-covered church dominates a large square resembling a scene from a spaghetti western.
As you venture inside from bright sunshine it takes a moment for your eyes to adjust.
Then a forest of gilt carvings slowly emerges from the gloom.
A door to the right of the altar leads to the strange Chapel of the Bones. Walls of this tiny place of worship are lined with around 1,250 human remains, dug up in the mid 19th century from the Carmo cemetery.  Neatly arranged, skulls and all, the idea was to remind man of his mortality.
After this, a treat was in order so we headed for the historic Café Aliança opposite the marina.
Dating back to 1908 this elegant café is housed in a tall building with wrought iron balconies. Inside, dark wooden panelling is hung with black and white photos of bygone Faro. Long glass cases display mouth-watering pastries.
It's said to be the oldest café in Portugal, once a favourite with the European literary set and included on their European tours.
Now it's quieter and off-the-map - but waiters in crisp white shirts and bow ties still take your order from the table and elderly Faroese pay a daily visit to leaf through the papers.
Refreshed with coffee, we made for the Sé, or cathedral, in the walled old town. 
Rebuilt after the earthquake, it's a mixture of Gothic, Renaissance and Baroque.
For a couple of Euros we climbed the bell tower. When we emerged onto the roof, we found ourselves below a pair of stork nesting above the bells. 
Mesmerised, we spent 10 minutes watching as the parents fed their young. Storks nests are common on rooftops the town over and these white birds can be seen gliding silently over Faro's mudflats.
Inside the Sé, tiles, or azulejos, decorate the walls.
Tiles were introduced by the moors in the eighth century. The Portuguese word comes from the Arabic al-zulecha meaning 'small stone'. Chapels are lined with striking Delft-style blue and white figurative designs showing the nativity story. Elsewhere are white, blue and yellow abstract patterns.
A trip to the beach had to be included during our stay. All the sands of the eastern Algarve are on spits, or Ilhas, separated from the mainland by narrow stretches of water. We took a bus to Faro's town beach.
A paddle confirmed that the sea is warm, even in May, although there was a strong breeze. We walked barefoot along empty golden sand before tucking in to fresh prawns and coffee from one of many kiosk cafes.
The Algarve specialises in fish dishes.
We tried as many as we could  - grilled tuna steaks , fresh sardines with garlic, and monkfish and king prawn kebabs. The Restaurante Ginasio Clube Navale at the marina was our favourite destination for its terrace overlooking the mudflats and laid-back atmosphere.
On one of our three days we took a train east to Tavira with its vibrant flowers and Roman bridge, and to the moorish fishing port Olhão .
These towns are quieter even than Faro but offer a further chance to see how the people of the Algarve live and work away from the culture of tourism. #Cooking and Recipes #Travel