Oprah Winfrey received favorite gifts on her birthday from her "fur-children"
Oprah received birthday gifts from her five dogs when she turned 62 on January 29.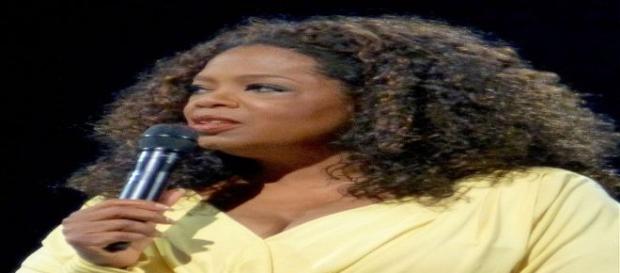 Oprah Winfrey turned 62 Friday, January 29. Many of her family, friends, and fans wanted to wish her Happy Birthday in a special way. They had a hard time deciding what to give the talk show host who literally has everything. Therefore, most people just sent her traditional birthday greetings, which Winfrey appreciated very much. However, there was also something tangible that the birthday girl received - given to her by her five "fur-children".
Flowers from Oprah's Five Fur-Children
Oprah says that, every year, longtime boyfriend Stedman Graham sends her birthday flowers from their fur-children. This year was different because the fur-children presented her flowers themselves to honor her on her birthday.
Oprah put a photo on Instagram of their five dogs with flowers in individual boxes in front of them. 
Oprah's Fur-Children
Oprah and Stedman have five dogs, because they both love dogs. Winfrey has had 21 dogs in her adult life. At one time she had 11 of them at once. There is no secret about the fact that dogs make her happy. She had one dog, a cocker spaniel named Sophie, who lived for 13 years and went to work with her every day. Oprah was heartbroken when Sophie died March 10, 2008. 
Every year around Christmas Oprah gives a list of her favorite things. Oprah's dogs are always on her list of favorite things. Her five current dogs are golden retrievers Luke and Layla, cocker spaniel Sadie and springer spaniels Sunny and Lauren.
Greetings From Oprah's Celebrity Friends
Flowers from Oprah's fur-children certainly topped the list of gifts she received on her 62nd birthday, but she did receive greetings from others.
Of course she received a special birthday wish from her best friend, Gayle King. Other #Celebrities who sent wishes to the television personality included LL Cool J, Debbie Allen, Steve Harvey, Tyler Perry, Patti LaBelle, Bishop T.D. Jakes, and the newly engaged Mariah Carey.
Gayle King posted on Instagram that more about Oprah, her birthday and her recent weight loss will be in the next issue of O magazine. The spokesperson announced this week that she has lost 26 pounds on Weight Watchers, and she eats bread every day. Needless to say, Weight Watchers' stock went up 23 percent and the billionaire pocketed close to $14 million after tweeting about her success on Weight Watchers. #News #Buzz