Grato Restaurant opens in West Palm Beach
Buccan Group takes hungry patrons in West Palm Beach on a culinary journey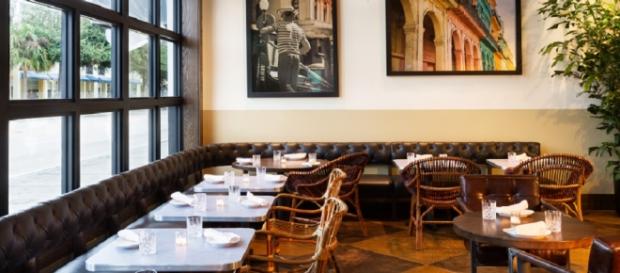 For those South Florida men who work in the West Palm Beach area, a new restaurant (Grato) is open for business. Chef Clay Conley and his partners in the Buccan group are the masterminds behind this new restaurant. Conley grew up in the West Palm Beach area and has worked in the culinary industry in such locations as Boston, Tokyo, Washington D.C., Las Vegas, and recently the Mandarin Oriental in Miami. The Buccan Group and Conley have two other restaurants in the area, Buccan and Imoto where customers are taken on a culinary journey between American cuisine and Japanese cuisine, with Grato now, gracing the landscape with its Italian cuisine.
Located right on Dixie Highway and a five minute drive away from the coastline, Grato's corner location calls out to hungry people with bright neon letters in an Art Deco stacked gateway sign up on top of the entrance. 
A taste of authentic Italian cuisine
The cuisine is good with antipasti and crostini (appetizers) such as bright tuna crudo with tomato water, cucumber and Calabrese oil or roasted garlic and white bean dip with olive tapenade, calamari, mushroom ragu with parmesan polenta, etc. If the working professional wants just wine and dinner, then there's a wide wine list by the bottle and by the glass along with cocktails and beers on tap. The pasta dishes are all made fresh from scratch "in house" and the kitchen can serve up simple "pasta red" spaghetti to herb penne with braised lamb, paccheri with "Sunday gravy." Pizza is on the menu also, baked in the wood-fire oven and other dishes like a 16oz bone-in NY strip with Chianti brown butter, herb marinated half chicken, wood-grilled daily fish, etc.
While eating, customers can relieve themselves of the daily traffic stress in South Florida by looking at the beautiful interior with carrara marble, dark woods, leather bar stools, and lounge furniture which will make them return again and again to sit in different places and try different offerings on the menu. 
Also, customers could use Grato to create traditions where they may take business clients to  dinner in one visit, have their son take a date out for a first one in another visit, and gather with family for a baby shower in another. Imoto and Buccan also have the same effect on customers and their reaction after leaving is that they had a great time and want to return. Most importantly, the food is great and worth the effort. The restaurant industry in South Florida is truly a jewel for all residents, and they should be proud of this in comparison to other mid-sized regions of the U.S. #Cooking and Recipes #Buzz #Travel