World's most exclusive restaurants
Dining with sharks, proposing over a $50,000 desert, eating from the table.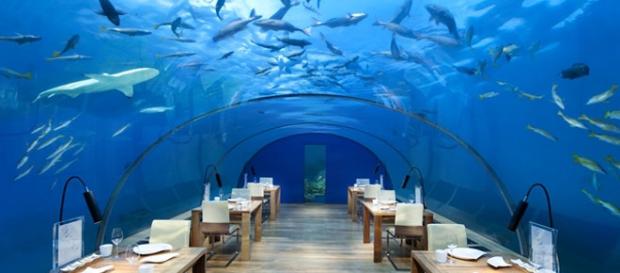 Some restaurants surpass their base purpose of feeding people and aim to wow their clients. They go to incredible heights just to do that. Here are some of the most exclusive restaurants in the world:
Ithaa – Maldives
On one of the small idyllic islands, Rangali, in the Maldives, the Ithaa restaurant has its dining room 16 ft (5 m) under water.The 175 ton construction entirely made out of glass was designed in Singapore and cost $5 million. It was lowered to the bottom of the ocean in one piece. Everywhere you look, you can see fish, sharks, manta rays or turtles. Dress code is casual; you don't have to wear shoes. Menu prices start at $300 and include the world's most exclusive ingredients: caviar, foie gras and truffles.
Since the Maldives have no agriculture, everything needs to be imported from all over the world in eight flights per week: beef from Tasmania, asparagus from Holland, tomatoes from Sri Lanka. Dishes are topped off with golden salt. The wine cellar contains between 16,000 and 20,000 bottles of the most exclusive wines.
Sirocco – Bangkok
On top of the 270 yard (240 m) State Tower you have the most exquisite view over Bangkok, Thailand. Many #Celebrities have enjoyed the Mediterranean cuisine here. Thailand's weather can sometimes be unpredictable, so the staff is trained to move the guests on all 28 tables with umbrellas in less than 15 minutes from the terrace to the dining room under the dome.    The restaurant is famous for its $50,000 dessert, to propose to your fiancé. This exclusive dessert includes a whole box of white caviar and honey from Himalayan wild bees.
But the most expensive part is a 2 carat diamond ring hidden in the sugar sphere. Who can say no to that?
Alinea – Chicago
Behind a simple street wall in Chicago, the most extreme things happen in this 3-star restaurant. The chef of Alinea wants to evoke emotions with all senses. Situated in an urban environment, the restaurant embraces the concrete and graffiti and tries to recreate that in the dishes. Instead of plates, they use pieces of concrete on which to serve the food. To finish them off, carrot spray is used to simulate the graffiti.  Or what about the silicon tablecloth on which the food is spread like a painting on a canvas? Every night, 90 guests enjoy a $300 set 18-course dinner, without knowing what they will eat, since the menu is only presented to them after dinner, so it wouldn't spoil the surprises. #Hollywood #Cooking and Recipes