New 'Jump Force' gameplay trailer released at E3 features Sasuke, Zoro in action
Bandai Namco Entertainment streamed two new gameplay videos of 'Jump Force' featuring Sasuke Uchiha and Roronoa Zoro.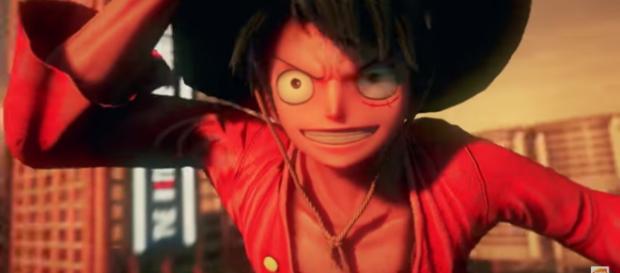 Bandai Namco Entertainment announced a new anime crossover fighting game title called "Jump Force" at this year's Electronic Entertainment Expo event. The publisher streamed a teaser for the game and it stars "Dragon Ball" hero Son Goku, Naruto Uzumaki from "Naruto," and the aspiring pirate king Luffy D. Monkey from "One Piece." The game these characters against one another along with other anime shows from Shounen Jump.
The Japanese publisher also streamed two new gameplay videos from the game featuring the swordsman Roronoa Zero and the rogue ninja Sasuke Uchiha, as they clash in an epic showdown.
Enter the world of 'Jump Force'
"Jump Force" is a 3D fighting game developed by Spike Chunksoft and published by Bandai Namco Entertainment. Spike Chunksoft is responsible for developing other anime-based Video Games such as "One Piece: Burning Blood" and "J-Stars Victory."
Similar to "J-Stars Victory," the "Jump Force" game lets players assume the roles of their favorite anime characters and pit them against each other in three-on-three battles. What made it unique is that they can now fight each other in the real world as the teaser trailer featured Son Goku, Luffy, and Naruto taking on Frieza at Times Square in New York City.
While Bandai Namco Entertainment did not explain how the anime characters crossed over to the real world, anime fans will easily recognize some the structures and objects associated from those shows such as Luffy's pirate ship, Thousand Sunny, and the Frieza Force spaceship. The teaser also featured "Death Note" protagonist Light Yagami and demon Ryuk hovering above the city.
Game Rant reported that Bandai Namco will likely add more popular Shounen anime titles such as "My Hero Academia," "Gintama," "Hunter X Hunter," "Bleach," and more.
Sasuke vs Zoro
According to AnimeNewsNetwork, Bandai Namco Entertainment streamed two new gameplay demos of "Jump Force" featuring Sasuke Uchiha against Roronoa Zoro. Both characters display their impressive swordsmanship and fighting prowess as Sasuke uses his signature moves such as Great Fireball Jutsu, Chidori, and Amaterasu. Sasuke can also use his Susanoo for protection and increase his power.
As for Roronoa Zoro, he uses his three signature swords along with fighting style, Santoryu, to keep up with Sasuke's blinding speed.
He can also change the conditions of the battle by using Kyutoryu. "Jump Force" will be available next year for the PlayStation 4, Xbox One, and the PC.
This news article has been verified through:
https://www.animenewsnetwork.com/news/2018-06-11/jump-force-game-gameplay-videos-confirm-zoro-sasuke-as-playable-characters/.132743