'Dragon Ball FighterZ' rumors: Season 2 DLC characters leaked online
Reddit username DasVergeben leaked the next DLC characters in 'Dragon Ball FighterZ.'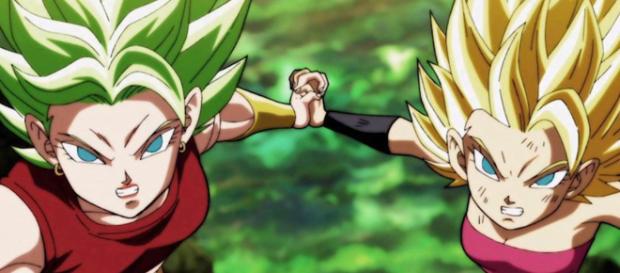 The latest updates for "Dragon Ball FighterZ" reveal possible playable DLC characters within the game. Reddit username DasVegeben claimed that eight "Dragon Ball" characters will be added to its already impressive roster and the information came from a disgruntled former employee of Bandai Namco Entertainment. The video game publisher already teased fan-favorites Bardock and Broly as the first batch of DLC characters, and video game and anime fans are eager to find out who is next.
There are also rumors of a new "Dragon Ball" video game title due to the success of both "Xenoverse" and "FighterZ" series.
Season 2 roster revealed?
According to DasVegeben, the eight DLC characters for season two are Tapion, Gogeta, Muten Roshi, Videl with Great Saiyanman, Raditz, Zarbon, Cabba, and Kale with Caulifa. Both Tapion and Gogeta made their debut in two OVA films. Tapion appeared in "Wrath of the Dragon" and is the original owner of Trunk's sword. Gogeta is the normal fusion form of Son Goku and Vegeta in "Fusion Reborn."
Muten Roshi is the master of Goku and Krillin, who taught them the Turtle school style martial arts.
Videl is the daughter of Mister Satan and Son Gohan's wife. Raditz is the older brother of Goku and the first Saiyan villain he encountered in "DBZ", while Zarbon is one of Frieza's loyal lieutenants in his army.
Cabba, Kale, and Caulifa made their debuts in the "Super" series and they are Saiyans from Universe 6. Unlike the Saiyans from Universe 7, the Universe 6 versions are peacekeepers rather than violent warmongers. Cabba can transform into a Super Saiyan thanks to Vegeta's training, and he was able to teach Caulifa and Kale the transformation.
However, Kale's version is different from his friends as she takes a beserker-like form similar to Broly's "Legendary Super Saiyan" transformation.
Although the leaked information is plausible and accurate, the Reddit user is still skeptical about its validity and warn fans not to believe it too quickly until there is an update. Still, having characters from OVA and a new anime series proves that Bandai Namco Entertainment is willing to use them to offer something new and interesting gameplay for the video game fans.
New 'Dragon Ball' title in the works?
DasVegeben announced that Bandai Namco is working a new "Dragon Ball" title and it is described as an action role-playing game. Many fans believed that it could be "Xenoverse 3" however, the Reddit user debunked the theory saying that it will be a different game. Fans will just have to wait for further details soon
Bandai Namco Entertainment looks to capitalize on the success of both the "Xenoverse" and "FighterZ," and they will surely continue the legacy of the popular anime series in the future of the gaming industry.