'Dragon Ball Xenoverse 2' DLC Pack 5 has a couple of surprises for players
V-Jump magazine revealed the latest additions to the DLC Pack 5 of 'Dragon Ball Zenoverse 2.'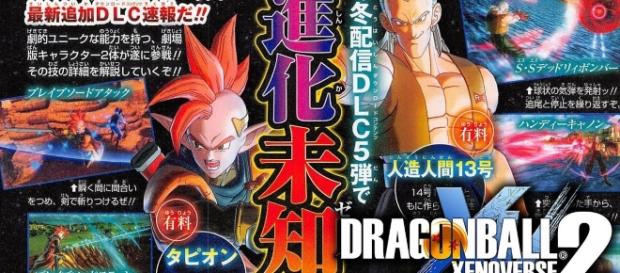 Two new characters will arrive in "Dragon Ball Xenoverse 2" through DLC pack 5. Fans have long been waiting for the arrival of this downloadable content. Bandai Namco Entertainment promised to release more details about the DLC after the game is released on Nintendo Switch. Several days ago, the developer released a couple of trailers of Gohan-Absorbed Buu and the Demon King Dubura. It was also revealed that Zamasu will be introduced in the fighting title, although the character will serve as a mentor.
Latest update
Recently, a new scan of the Japanese publication, V-Jump magazine surfaced online revealing more details about "Dragon Ball Xenoverse 2" DLC Pack 5. Both Android 13 and Tapion will be added to the roster of characters of the popular fighting title. These new characters will be available through the paid downloadable content.
Artificial Human No. 13
Android 13, otherwise known as Artificial Human No. 13, is the thirteenth creation of the vengeful Dr. Gero. The android was made to continue Gero's revenge on Goku, who defeated the Red Ribbon Army when he was a young boy.
The character was first introduced in the movie, "Dragon Ball Z: Super Android 13." Interestingly, 13 claims that he knows too well about the Genki-Dama and is prepared to counter it.
His techniques and abilities include the 3D Scan Mode, which gives him the ability to scan his enemies in advance. Like other androids, 13's 3D Scan Mode allows him to communicate with the supercomputer of Dr. Gero and provides them with information about the Z warriors. He is also equipped with Android Barrier, which acts as its basic energy shield. Android 13 is also capable of firing Rapid Blasts and Energy Attacks.
The Legendary Hero
Alongside Android 13, another character that will arrive in the game is Tapion. The character was first introduced in "Dragon Ball Z - Wrath of the Dragon." The upcoming character sports red mohawk hair with a gold headband that covers the bald portion of his head. He is equipped with a Magical Sword and a Magic Ocarina. He claims that these are presents from God.
Other details
In addition to the two new characters, the fifth downloadable content is also expected to introduce new costumes for its characters.
This will be taken from Universe 11 and Universe 2's battle lineup. The new costumes will also be a part of the paid DLC. Aside from those, players will also get to enjoy a new Hero Colosseum. However, there is no other detail revealed about this new addition.
Bandai Namco Entertainment has not yet provided the release date of the DLC Pack 5. "Dragon Ball Xenoverse 2" is now available on PlayStation 4, Xbox One, PC, and Nintendo Switch.