'Dragon Ball FighterZ' new stages, new characters, and more revealed
Rate this title
New information about 'Dragon Ball FighterZ' has been recently revealed including new stages where fights will take place.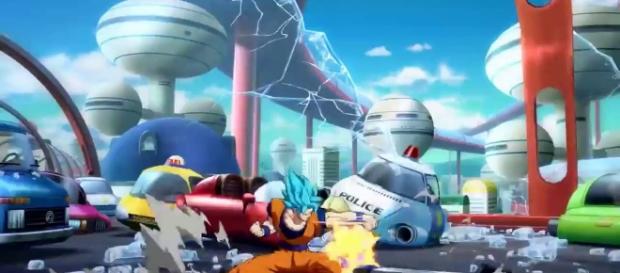 "Dragon Ball FighterZ" is adding two new fighting stages that players will surely enjoy. The 2.5D fighting title from Arc System Works is getting more details as it inches closer to its release date. While fans will have to wait until February 2018 to finally get their hands on the action-packed game, Bandai Namco Entertainment is trickling more details. This includes gameplay, screenshots, trailers, and now, new stages.
New stages
In any fighting game, one of the things that excite the players aside from the abilities of the characters in the fighting stage. Fortunately, GameInformer recently reveals several details about two of these new stages in the upcoming 2.5D fighting title.
A few days ago, the gaming site announced that it would hold a Bandai Namco beat-em-up "Dragon Ball FighterZ" on the cover of its November 2017 issue. In other words, there will be a massive barrage of information about the game for that month. The coverage appears to have started today as the site unveils the two fighting stages that will be included in the game.
Amenbo Island
One of the new stages revealed is the Amenbo Island. In "DBZ," this is the place where Goku and the rest of the Z Warriors meet Dr. Gero and Android 19. Future Trunks [VIDEO] delivered the information to the fan-favorite Saiyan and told him about the place of their battle.
The West City
Aside from the Amenbo Island, fans can also choose this new stage to hold a fight. Dubbed as the West City, the place is popular in the community as the headquarters of Capsule Corp.
In the upcoming game, the desecrated version of the city will be one of the fighting stages.
New character
In addition to the two new battle stages, Bandai Namco Entertainment recently revealed another character for the game —Android 21. Anime and Manga creator, Akira Toriyama, originally made the character. Her inclusion in the fighting title was announced during the Tokyo Game Show [VIDEO] last month. The new character is introduced as a mysterious scientist that possesses the knowledge similar to that of Dr. Gero. While her story is still vague for now, she is somehow connected to the game's Story Mode, which was previously revealed to center on Android 16.
Other details
Fans can expect more details about the 2.5D fighting game in the coming months. Most likely, more characters will be introduced, and more details about the game's Story Mode will be revealed. Meanwhile, you can check out the new video containing the coverage trailer released by GameInformer below.
"Dragon Ball FighterZ" is slated to be released in February 2018. The game will be available on PC. PlayStation 4, and Xbox One.
Click to read more
and watch the video
or