'Attack on Titan 2' features more playable characters, out in March 2018
The game will have more improved features which is based on the second season of the anime.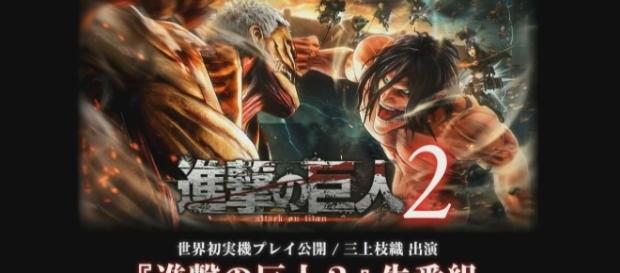 As anticipation rises for the arrival of the "Attack On Titan" Season 3 anime, fans will be treated to the release of the video game "Attack on Titan 2," prior to the anime's premiere. The action-packed sequel will be out by March 2018, as revealed by Koei Tecmo on Twitter.
On its official Twitter account, the video game publisher revealed that "Attack on Titan 2" will be released on PS4, Nintendo Switch, Xbox One, and PC Seam. The post includes an image of Eren and Reiner's Titan form fighting each other while the Survey Corps come to protect Eren.
New playable characters
The upcoming game's storyline will be based on the anime's second season. It features versatile gameplay and all-new challenges. There will be numerous playable characters from "Attack on Titan" Season 2.
Players will be able to choose from Eren Jaeger, Armin Arlert, Mikasa Ackerman, Miche Zacharias, Gelgar, Ymir, Nanaba, and Christa Lenz. The developer also revealed that players will be able to create a Custom Scout with its own unique abilities.
Game features
The game will feature Titans with enhanced attacks and movements.
This means that players would need more precise maneuvers to attack the giant human-killer. "Attack on Titan 2" also introduces the Monocular, which allows the Scouts to have a better analysis of the Titan's position from a distance. This will also help them to have an improved attack strategy using their Omni-Directional Mobility Gear.
It will also include a new Town Life gameplay, wherein Scouts can develop a relationship with other Scouts during training. This provides a greater insight into the characters and will allow them to strengthen relationships, which is an important element of the game.
Koei Tecmo made a lot of improvements, which is indeed better than the "Attack on Titan" 2016 game and the first "Attack on Titan: Humanity in Chains" game in 2013. The new and improved features definitely excite gamers, especially if they are a fan of the anime.
Gameplay showcased in live broadcast
A special "World Premiere Live Gameplay" broadcast was held at 8:00 PM JST today, wherein the game developer provided a closer look at the gameplay in action. The broadcast can be viewed on YouTube, NicoNico Live, and Fresh.
It featured Megamori Mikami, who plays Christa, producer Koumuma Hisashi, and director Hiroto Suzuki. The game's development and production secrets and other information were discussed in the said broadcast.
"Attack on Titan 2" will be released in March 2018. It will be available in North America, Europe, and Japan for PlayStation 4, Xbox One, Nintendo Switch, and PC.