'Dragon Ball Xenoverse 2': Fans unhappy with DLC 5 characters
The new scan reveals the appearance of Zamasu from 'Dragon Ball Super.'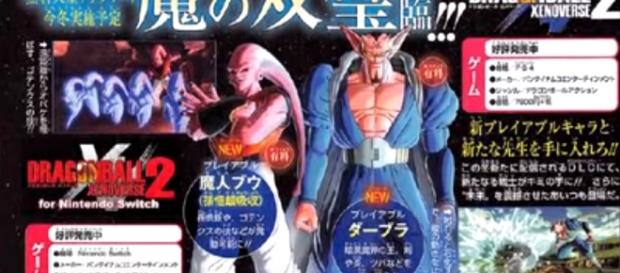 Bandai Namco Entertainment promised fans a full year of support for "Dragon Ball Xenoverse 2" when it launched the well-received fighting RPG in October last year. Following the release of DLC 4 in June, the studio has now confirmed the addition of two new characters. However, from the looks of it, many fans are unhappy with the announcement of DLC 5.
On Tuesday, the scan from the weekly issue of V-Jump confirmed the impending inclusion of Buu (Gohan Absorbed) and Demon King, Dabura in what appears to be the DLC 5 of "Dragon Ball Xenoverse 2." These two characters are from the Majin Buu Saga in "Dragon Ball Z."
DLC 5 new characters
The new version of Buu emerges after he absorbs Gohan.
Dabura, on the other hand, is Babidi's assistant who has the power to turn his enemies into stone by spitting on them.
Moreover, the new scan also revealed the appearance of Zamasu from "Dragon Ball Super" in the fighting game as a mentor character. This important character can teach new skills from the epic saga, which players can use for their custom characters.
Check out the scan in a fan video below.
Fans unhappy with Buu, Dabura
Apparently, fans expressed their disappointment with the announcement of Buu and Dabura as the next characters in DLC 5.
On the video's comment thread, a lot of the players wrote that they are unhappy because these characters should have been added in the base game on day 1. Now, fans want the upcoming content as a free update.
One player named Gamer504 commented, "I love this game and I appreciate their hard work for new characters but that's not going to expand XV2's lifespan any longer unless they fix the problems it already has, or add to the overall experience."
On the other hand, there are others who are excited about the addition of Zamasu as a mentor character along with Buu and Dabura.
Release date and platforms
Apparently, Bandai Namco Entertainment has not yet set an official release date for the DLC 5. The scan also indicates that the new content will be available on PS4 and Nintendo Switch versions but that's because the game was only launched on these platforms in Japan. The next DLC will definitely be available on PC and Xbox One in North America, Europe, and other regions.
"Dragon Ball Xenoverse 2" is currently available on PC, Xbox One, and PS4 platforms. The fighting role-playing game will be available on Nintendo Switch on September 22 with new features, gameplay improvements, and exclusive motion controls.