'Dragon Ball Xenoverse 2' DLC Pack 5 adds most requested characters and more
New updates on the upcoming DLC Pack 5 of 'Dragon Ball Xenoverse 2' is now available.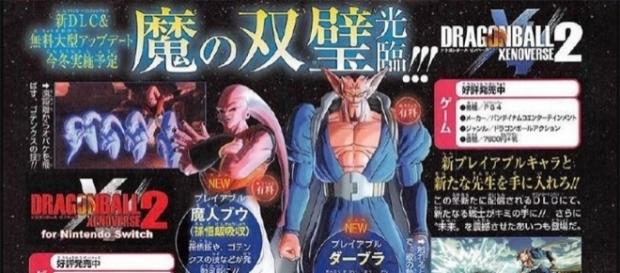 More details about "Dragon Ball Xenoverse 2" DLC pack 5 are now available. Bandai Namco Entertainment is keeping true to its previous promise that it will release more information about the next content after the game is released on Nintendo Switch. A new scan from a Japanese publication confirms the arrival of highly awaited new playable characters to the widely played fighting game. The new playable characters include Dubura, Buu, and a special Zamasu.
New playable characters
The V-jump magazine released a new issue containing new details about "Dragon Ball Xenoverse 2" DLC Pack 5.
The scanned copy reveals that players will soon get their hands on Gohan-Absorbed Buu. The villain will be available in the game in this form. It is also revealed that Super Buu will have the moves of Gohan and Gotenks.
Aside from Gohan-Absorbed Buu, another villain will be added to the game. The King of Demon Realm, Dabura will soon be fighting against various characters in the second fighting game installment. Among Dabura's signature techniques include Magic Materialization. This technique enables him to make weapons out of nowhere.
He can also throw an Evil Flame attack, Evil Impulse, and Afterimage Strike among others.
There is no information yet about the moves that will be available for Dabura and Gohan-Absorbed Buu. In addition to the new playable characters, the publication also mentions on Zamasu's inclusion in the upcoming DLC Pack. This time, the villain will be a mentor and will teach the characters his attacks.
It is worth noting that both Dabura and Buu were previously discovered in the game files through data mining activities.
Fans are also looking forward that both Half-Captured Zamasu and Future trunks would be made playable characters with the arrival of DLC Pack 5. While they are both included in the fourth expansion, they are not playable characters.
Release date and other details
Bandai Namco Entertainment has not yet provided the release date of the upcoming downloadable content. V-Jump also reveals that there is a new free DLC coming in Winter. While there is no information available about this free DLC yet, it is safe to assume that it will most likely contain costumes and new move sets.
Other fans are requesting to get their hands on the missing transformations of villains, Cell, Frieza, and Zarbon. More information about the upcoming content will be made available in the coming days. Meanwhile, "Dragon Ball Xenoverse 2" is now available on Nintendo Switch in Japan. The game's hybrid console version will be available in North America and Europe starting September 22.