'Dragon Ball Xenoverse 2' DLC 5 release date revealed, first look teases Dabura
Avid gamers of 'Dragon Ball Xenoverse 2' can get their hands on DLC 5 in winter season.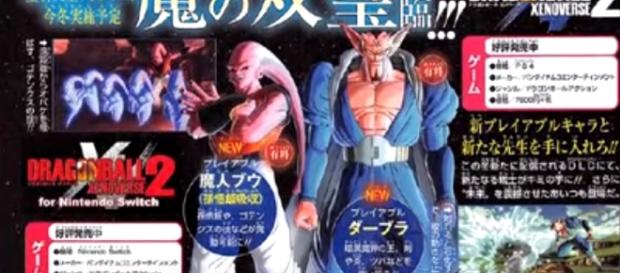 Bandai Namco Entertainment has confirmed the release date of the hotly anticipated DLC 5 for "Dragon Ball Xenoverse 2." Also, the game publisher teased a first stunning look at the playable villainous character, Dabura.
In its newest post on Twitter, the studio revealed that "Dragon Ball Xenoverse 2" DLC 5 will be out in winter season. It means the release date will take place in December 2017 at the earliest, or as late as February next year.
Apparently, the post is in Japanese language but the available translator mentioned that the fifth DLC will be available for the winter season.
【#ゼノバース2】ついに新DLC第5弾が今冬配信予定!!プレイアブルキャラクターとして新たにダーブラが参戦するぞ!!ツバで相手を石化させる技などが使える!!#ドラゴンボール #PS4 #NSW pic.twitter.com/JTAgGNON3o

— 「ドラゴンボール」家庭用ゲーム公式 (@dbgame_official) September 21, 2017
DLC 5 first teaser photo
Moreover, the game publisher also offered the first and official teaser photo for the upcoming update. It shows King of the Demon World Dabura's great power to turn his opponent into some hard cold stone.
Other than the villainous Dabura, the new playable characters coming to the popular fighting role-playing game include the Gohan's absorbed form of Super Buu. Also, Zamasu will appear as a mentor character that will teach his attacks as a master to players' created characters.
A whole year of support
The rumor of a DLC 5 emerged back in June and indeed, Bandai Namco is not done yet to drop additional updates for the game. Seemingly, the game publisher intends to keep its promise to fans that it will provide a whole year of support for the fighting title.
This exciting news first came out from the latest scan of Japanese magazine, V-Jump that was published last week. The image confirmed the addition of three characters in the game's next expansion pack.
It only suggested a release on PS4 but this is understandable since the game is solely available on PS4 consoles in Japan. However, it is also expected that it will launch on Xbox One, PS4, and PC platforms in North America, Europe, and other regions.
Nintendo Switch version
In more news, the action-fighting game finally arrived on the Nintendo Switch on Friday, September 22. That is 11 months after it hit Xbox One, PS4, and Windows PC on October 25 last year.
Notably, the Switch version offers exclusive features that are unique to this platform. The users of the Nintendo console can enjoy the HD rumble, motion control, and other additions.
Watch the official launch trailer for the Switch version below.
"Dragon Ball Xenoverse 2" is an action-RPG with MMO aspect developed by Dimps and published by Bandai Namco Entertainment.
The next Dragon Ball game titled "Dragon Ball FighterZ" is slated for launch in February 2018.