'Dragon Ball FighterZ' Update: Beta test to feature eleven playable characters
New screenshots of 'Dragon Ball FighterZ' beta test will feature eleven playable characters.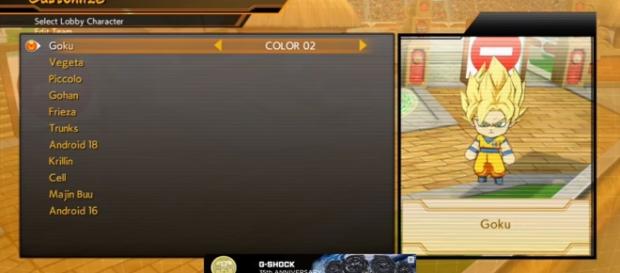 The latest updates for "Dragon Ball FighterZ" will feature eleven #Playable Characters, game codes, and an early gameplay video for the game's #Beta test.
Playable 'FighterZ' in the beta
Bandai Namco Entertainment announced that the codes for the "Dragon Ball FighterZ" beta test were released this week and new screenshots revealed that players will have access to eleven characters with at least four different color palette outfits. These characters are Son Goku, Vegeta, Son Gohan, Future Trunks, Krillin, Piccolo, Frieza, Cell, Majin Buu, Android 18, and Android 16.
The game will also feature a lobby system [VIDEO] similar to "Guilty Gear Xrd" and allows players to travel around several areas from the "Dragon Ball" lore such as the World Martial Arts Tournament arena, Master Roshi's house, Cell Games arena, North Kai's planet.
Players can interact with other people online and challenge them in friendly matches. YouTube username PS360HD2 has uploaded a 15-minute gameplay of the beta and was able to roam around the area and fight other players.
Match transitions will happen at random as the matchmaking system will pair gamers to fight each other. During online bouts, players get to see their ping rate in real time as it is directly posted above the round timer.
Gamers who are not able to play closed beta will have a chance to play the game at the open beta test in January 2018.
What we know so far
"Dragon Ball FighterZ" plot will feature an alternate version of the "Android Saga" that sees android versions of Son Goku, Vegeta, Piccolo, and Krillin destroying the city instead of Android 17 and Android 18. Bandai Namco will reveal more details about the plot at the Toyko Game Show 2017 [VIDEO] event on Sept.
21-24.
Players who have pre-ordered the game will have the chance to play the "Super Saiyan Blue" versions of Son Goku and Vegeta on the roster. Bandai Namco also revealed the "CollectorZ" edition which will include a 18cm Goku statue figure, three art board, and a steel book casing.
Gaming fans are hoping that the Japnese game publisher will add more "Dragon Ball" characters from non-canon media like Cooler, Lord Slug, Broly, Janemba, Turles, Towa, and Mira.
Game producer Tomoko Hiroki teased the possibility that "FighterZ" will be a hit in the eSports community, but they will have to focus first on introducing the game to the die-hard fans of the anime series. The game will launch in February 2018 for the PS4, Xbox One, and PC. #Dragon Ball Super