'Dragon Ball FighterZ': Tien Shinhan, Yamcha, and Android 21 added to the roster
Bandai Namco Entertainment adds Tien Shihan, Yamcha, and new original character Android 21 in 'Dragon Ball FighterZ's' roster.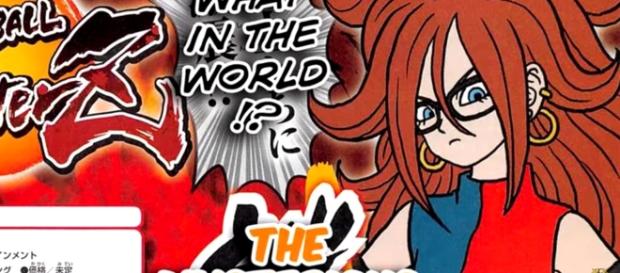 The latest updates for "Dragon Ball FighterZ" will feature Yamcha and Tien Shinhan in the roster, the debut of a new character Android 21, and the closed beta test launch.
Meet Android 21
Bandai Namco Entertainment announced three new characters for "Dragon Ball FighterZ" in the latest issue of V-Jump Magazine. "Dragon Ball" supporting characters Yamcha and Tien Shinhan are added to the roster, Yamcha uses his signature Spirit Ball special and Neo Wolf Fang Fist attacks to wipe out his opponents.
Tien Shinhan is seen using his Neo Tri-beam Meteor attack and his friend Chaozu will serve as an assist character similar to Android 17.
The third playable fighter will be an original female character named Android 21 and she was designed by the anime's creator Akira Toriyama. Android 21 is a scientist whose intellect equals of that of Dr. Gero and she will play an important role in the game's story mode. She is seen with the revived Android 16 and it is unknown if she is an enemy or an ally of Son Goku and his friends.
Dragon Ball FighterZ ~ First look at Android 21

Original character designed by Akira Toriyama pic.twitter.com/tcKfJmnRWv

— AllGamesDelta (@AllGamesDelta) September 16, 2017
Yamcha and Tenshinhan on Dragon Ball FigterZ

V-Jump scan via @ShonenGameZ pic.twitter.com/tXEDCMMmpO

— AllGamesDelta (@AllGamesDelta) September 16, 2017
The game's story mode will feature an alternate version of the "Android Saga" as robot versions of Goku, Vegeta, Krillin, and Piccolo are attacking the city instead of Android 17 and Android 18. Bandai Namco promised gaming fans that they will reveal more details about the story at the Tokyo Game Show event on Sept. 21-24.
Closed Beta test out today
Bandai Namco has officially launched the closed beta test for "Dragon Ball FighterZ" and lucky participants will have a chance to play their favorite character and duke it out with other players online.
The closed beta will feature eleven playable characters and a lobby system similar to "Guilty Gear Xrd." Player's can choose their own chibi avatar and change the color of their outfits. Players can interact with other players and challenge them to friendly matches.
The match transition will happen at random as the matchmaking system will pair gamers to fight each other.
Players can see their ping rate in real time during matches and it is posted above the round timer.
For those who are not able to play the closed beta test, the game publisher will launch the open beta of the game in January 2018. Players who have pre-ordered the game will receive the "Super Saiyan Blue" versions of Son Goku and Vegeta.
The "CollectorZ" edition will include a 18cm Goku statue, three art boards, and a steel book casing. Game producer Tomoko Hiroki stated that the game will be an eSports hit, but they will have to focus on the die-hard anime fans first before they add the game to the fighting league.