'Dragon Ball FighterZ' Story Mode cutscene, gameplay for new characters revealed
New details are released recently for 'Dragon Ball FighterZ' revealing the game's Story Mode and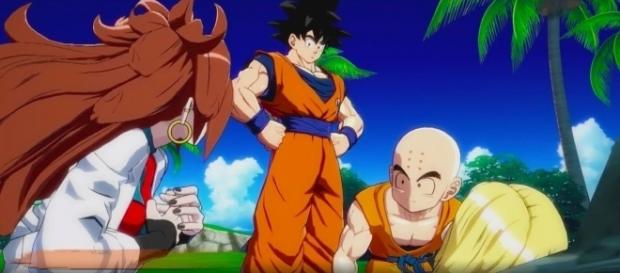 New videos about one of the most important parts of the upcoming game "Dragon Ball FighterZ" were recently released. These give fans a sneak peek at what to expect in the Story Mode of the 2.5 D fighting title from Arc System Works. In addition to the new cutscene, another video showcasing the gameplay of two newly confirmed characters in the game is also available now. The trailer shows the fan-favorite members of the Z Warriors - Tien Shinhan and Yamcha.
New cutscene
One of the major video game's events is happening now in Tokyo, Japan, and fans are expecting more announcement will be made for "Dragon Ball FighterZ." True enough Bandai Namco Entertainment is now showcasing demos at the Tokyo Game Show, highlighting the eleven playable characters in the game.
These are the same characters that are included in the Closed Beta of the 2.5 D fighting title that started last week. Fans present at the event are enjoying the trailers that feature Teen Gohan, Goku, Vegeta, Future Trunks, Krillin, and Piccolo. In the video characters like Android 16, Android 18, Cell, Frieza, and Majin Buu can also be seen.
Interestingly, there are additional trailers that are shown in the event as part of the team's presentation for the upcoming fighting title. The first video is the Story Mode cutscene.
It stars Goku, Krillin, Android 18, and the newly introduced character—Android 21. The trailer reveals that Android 21 is a doctor trying to help Android 18. Goku and Krillin are shown watching Android 21 does her job.
Several weeks ago, Bandai Namco Entertainment confirmed that the upcoming title will have a different story mode. According to the game publishing titan, the story mode will be a departure from its previous game installments as it will not be based on the Manga or the Anime series of the franchise. It was also disclosed that the story will revolve around Android 16 and Goku and his team will face new enemies that look exactly like them.
New gameplay trailer
Aside from the Story Mode cutscene, another trailer is shown at the Tokyo Game Show. The video reveals the gameplay for two of the recently confirmed playable characters in the fighting title—Yamcha and Tien Shinhan. Both fighters are shown be strong and powerful in the video. You can check out the two new videos below.
"Dragon Ball FighterZ" is scheduled to arrive in February 2018. The 2.5D fighting title by Arc System Works will be released on PlayStation 4, Xbox One, and PC.