'Sword Art Online: Fatal Bullet' is Bandai's Projekt 1514, gameplay revealed
A new anime game from Bandai Namco will be released in North America on 2018 titled 'Sword Art Online: Fatal Bullet.'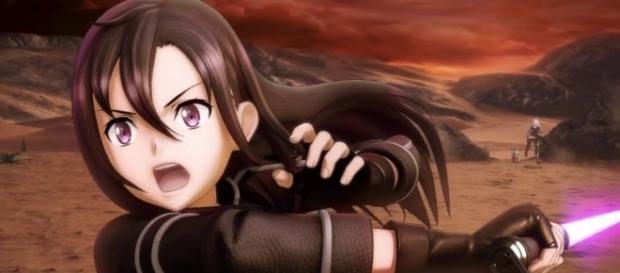 Bandai Namco recently revealed a mysterious game with title "Projekt1514." It recently released a teaser trailer for the said game. It turns out the mystery game cloaked in another name is "Sword Art Online: Fatal Bullet". Here are the latest details about the upcoming anime game with a new gameplay trailer.
Projekt1514
Recently, the gaming community has been intrigued with the latest announcement from Bandai Namco Entertainment. Projekt 1514 was announced through a teaser trailer that was recently released.
Aside from it was developed by Dimps and is a sight of a post-apocalyptic cityscape, nothing more can be dissected from it.
Meanwhile, the company has also revealed recently that it will release a new RPG game in the early part of 2018. Interestingly, Game Jouhou via Siliconera recently spotted an initial video suggesting that the mysterious Projekt 1514 is actually "Sword Art Online: Fatal Bullet" using the same logo. The video was quickly taken down. When Bandai Namco officially revealed the trailer for the upcoming anime game, the previous claim was proven correct.
What is the game all about?
The upcoming game made by Dimps and published by Bandai Namco Entertainment will be a third-person hybrid action shooter title with some RPG elements. The game is based on the popular anime of the same title. It will allow players to use both gun and sword as its gameplay mechanics. The game story will be penned by the renowned anime creator Reki Kawahara. Most likely, the story will be influenced by the anime's second season and will be set in the digital world of Gun Gale Online.
The game will utilize Unreal Engine 4 and boasts of its robust environment and textures. In this game, players can challenge tough bosses that will require friends in co-op. There is also a 4-on-4 battle that players can try. Moreover, the game will have realistic weapons and players will be equipped with unique skills.
Release details
The upcoming third-person hybrid action shooter title will be released in North America in the early part of 2018. It will be released on Xbox One, PlayStation 4 and PC. This is the first time a "SAO" game will be released on Xbox One as it is usually released in the home of the anime games, PlayStation 4.
Gameplay
A new gameplay for "Sword Art Online: Fatal Bullet" has been shared by Dengeki Online. It is an 8-minute gameplay is in Japanese but it will give fans the idea of what to expect in the upcoming game aside from the previous trailer that was released by Bandai Namco.