New 'Sword Art Online' game coming to PS4, Xbox One and Steam
Bandai Namco announced that a third person shooter based on the anime is in development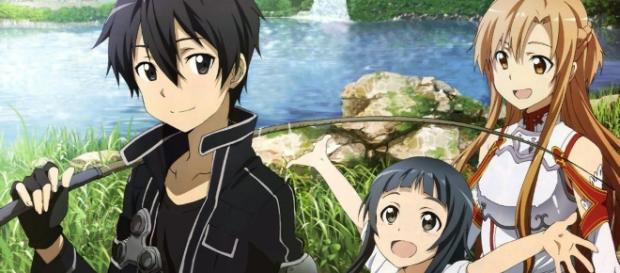 The hit anime "Sword Art Online" has received quite a few video game adaptations since it became world wide phenomena. Bandai Namco announced that a whole new game is in the development and set to be released sometime in 2018. "Sword Art Online: Fatal Bullet" takes a different approach to previous titles, as it is a third person shooter instead of a straight forward action RPG.
The new SAO game is set in Gun Gale Online
For those familiar with the anime, the phrase Gun Gale Online should be instantly recognizable and is the obvious setting for a shooter passed video game adaptation of the popular series.
"Fatal Bullet" brings over the RPG elements seen in previous titles like "Hollow Realization" and "Lost Song," but the focus has been completely shifted to gun play.
As only a short trailer and tidbits of information are currently available, we do not know too much of how the new "Sword Art Online" plays. Visually, it does seem to be a significant improvement over previous titles, especially since it is not being designed for a portable console as well. Actually, this is the first time that an entry in the franchise will not be available on a PSP or a PS Vita.
Hopefully, this might lead to "Fatal Bullet" actually looking like a current generation title.
Regarding other details, Bandai Namco confirmed that co-op will be available and 4v4 battles are part of the gameplay. The franchise has never lacked for weapon variety, so the confirmation that there will be a ton of options available does not come as a particularly huge surprise. From the trailer and information, it looks like players control either Kirito or one of the other cast members and there will not be the options to create a unique character.
Series creator, Reki Kawahara, penned the original story for "Fatal Bullet," so if you are a fan of the anime, this should offer more of the same. In other words, a lot of talking mixed in with some fun action scenes.
PC and Xbox receive their fast taste of SAO
Somewhat surprisingly, "Fatal Bullet" will be the first time a video game adaptation of the anime will be available on a console not by Sony. Bandai Namco decision to go with a multi platform release reflects the recent trend of JRPG being made available on as many options as possible.
PC gamers especially should be delighted to hear this news, as a few years ago it would be assumed that any JRPG or anime would ignore the master race.