'Dragon Ball Z Fighter' Update: New Story Mode and new characters confirmed
The upcoming Dragon Ball game will feature new storyline and new playable characters.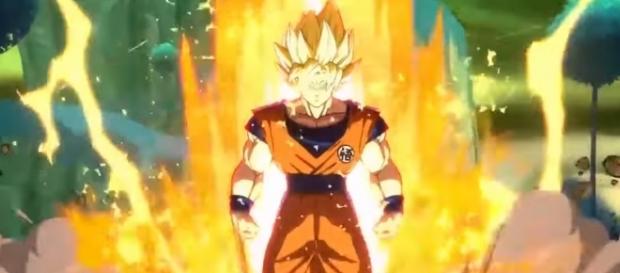 Shounen Jump, a Japanese magazine, has confirmed new updates for the upcoming game "Dragon Ball Z Fighter". This famous fighting game is an adaptation of the legendary series. It will be released next year for Xbox One X, PlayStation 4, and PC.
New story and characters revealed
The Japanese magazine Shounen Jump has revealed that the "Dragon Ball Z Fighter" will feature two new Playable Characters, Android 16 and Android 18. It also claimed that the Dragon Ball game will feature a new Story Mode that is entirely different from the manga and anime plots.
The new plot will involve a resurrected antagonist, Android 16, and a new evil force that will defeat the Z warriors. Moreover, the Super Saiyan mode will feature the Super Saiyan Blue for both Goku and Vegeta characters.
The official characters of the game are also revealed. It includes Buu, Frieza with his 100% Golden transformation, Gohan, Goku, Krillin, Perfect Cell, Piccolo, Trunks with his future SSJ, Vegeta.
New gameplay released
According to WCCF Tech, the game's developers released a new "Dragon Ball Z Fighter" gameplay footage earlier this week.
It shows off some exciting combos from several well-known characters in the game. The video also showed Android 18's special attack with Android 17.
The gameplay video also showed a similar graphic style with the "Guilty Gear" game. It is set to be a three vs. three that is parallel with the "Marvel vs. Capcom 3."
In the next couple of weeks, the upcoming game's closed beta will allow gamers from various countries in Europe and North America to get their hands on the "Fighter Z". The developers released a statement, saying that they are working on the game's background system to ensure that the closed beta can accept the volume of the anticipated sign-ups.
Closed Beta details
Bandai Namco announced that the registration of the closed beta will be delayed. Hence, they are giving more time for players to participate in the event. Furthermore, the game's developer also revealed that the testing phase of the game will begin soon.
The company also revealed on Facebook that the team is working on the game's online systems. These announcements seem reasonable as it explained the reason why the company moved the registration from July 26 to August 22.
As for the Closed Beta, the event will take place from September 16 to 18.
The participants who signed up On August 22 is going to have the chance to take part in the game's technical test.
"Dragon Ball" fans can expect a new footage from the franchise soon. Stay tuned for more game updates!