'Dragon Ball FighterZ' trailer confirms talks that SSGSS Goku can Kaio-Ken.
A new trailer showcasing two new character forms of Goku and Vegeta in 'Dragon Ball FighterZ' is released today.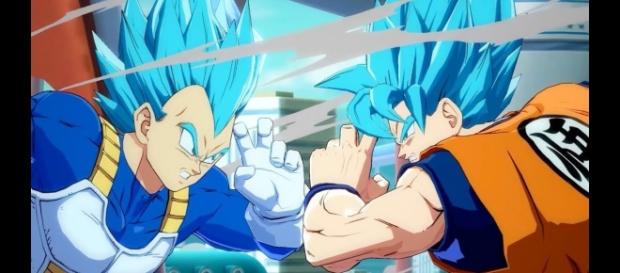 Bandai Namco Entertainment released a new trailer for "Dragon Ball FighterZ" at Gamescom 2017. The latest video features the two character forms of the two most powerful fighters in the game. The 2.5D fighting game will be more interesting with Super Saiyan God Super Saiyan Goku and Super Saiyan God Super Saiyan Vegeta.
Latest trailer
The super-powered character forms of Goku and Vegeta are shown in the latest trailer of "Dragon Ball FighterZ" fighting against other previously revealed characters.
SSGSS Goku is seen fighting with random characters like Krillin, Android 18 and 17, and even SSB Vegeta. On the other hand, SSGSS Vegeta is seen fighting against Piccolo, Android 18 and 17, and SSB Goku. Each of the new character forms showcases their signature moves in the fights. SSB Goku is shown powering up and using his 10x God Kamehameha. SSB Vegeta shows off his iconic Final Flash Attack.
Previous reveal
A few days ago, the character forms of both Goku and Vegeta were revealed by the Japanese publication Weekly Shonen Jump.
This was revealed with the announcement of the game's unique Story Mode, so their superpowered appearances in the trailer are not a surprise to the fans. However, it is the first time that these character forms are seen in action. The two character forms will be unlockable in the game. However, those who pre-order the physical version of the game will be able to use them right at the game's official launch.
Some fans are now speculating that Goku might be able to use the Kaio-Ken while in his Super Saiyan God character form.
The speculation stems from the images shown in the scanned image of the Weekly Shonen Jump. It seems that the latest trailer jives with this speculation. Bandai Namco Entertainment has not yet made a comment about this speculation.
Release details
Arc System Works' 2.5D fighting game will be available on PC, PlayStation 4, and Xbox One. For PlayStation 4 and Xbox One players who would like to participate in the game's Closed Beta, registration is now up. The Closed Beta will start on September 16.
The game will be released in Europe on February 2018. The game publisher has not yet provided the US release window. Most likely, it will be available in the US soon after its Europe release.
The "Dragon Ball FighterZ" Collector's Edition will also be available. It will come packed with freebies like a Goku Statue, art boards and other game related collectibles for $140. Meanwhile, you can check out the latest trailer of the game below.