'Dragon Ball FighterZ' SSGSS Kaio-Ken Goku could be added as playable form
Weekly Shonen Jump released an image for 'Dragon Ball FighterZ' revealing new playable characters, forms, and story mode among others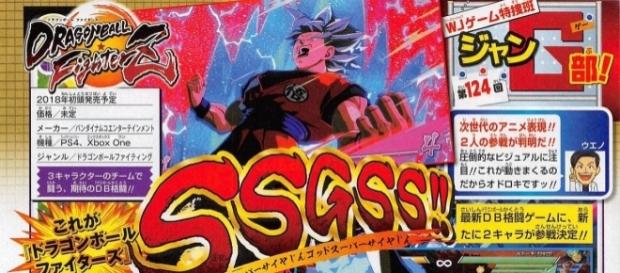 There is an excellent chance that SSGSS Kaio-Ken Goku will be included in the list of playable character forms in the upcoming game "Dragon Ball FighterZ." A recent scanned copy of a Japanese magazine revealed an image of the fan-favorite Super Saiyan that has drawn speculations from fans.
Latest image
On August 17, a scanned copy of the Japanese magazine Weekly Shonen Jump was released online. It contains interesting details about Arc System Works and Bandai Namco Entertainment's upcoming 2.5D fighting game.
Among these includes the confirmation of the new Playable forms for Goku and Vegeta, which is Super Saiyan Blue. The latest issue also revealed that the upcoming game will have a unique story mode that will depart from the anime series and Manga.
Aside from the two playable characters, the information about the story mode also reveals that it will be based on the revival of Dr. Gero's 16th son, Android 16. It confirms as well that Android 18 will be a playable character along with his sister, Android 18.
SSGSS Goku
Interestingly, the scanned image also shows the Goku in his SSGSS form using Kaio-Ken. Speculations about this form to be included in the upcoming fighting game start to make rounds online. While this is not yet confirmed by the game developer or publisher, there is a great chance that it will be included. The image is solely for the game and not for the anime series, so the speculation that it could be referring to the popular anime series is now out.
Several fans are claiming that another possible reason for this character form to be included in the game is the release window.
The game is scheduled to be released on 2018, and by that time the anime series has already revealed Goku's form. Most likely, there is a great possibility that it will be released in the game.
Other playable character forms
Freiza's Golden form has already been confirmed to be included as a playable character form. Fans are also wondering if a new Future trunks form could also be a part of the playable character form in "Dragon Ball FighterZ." So far, the playable character forms that are officially confirmed are Golden Freiza, SSB Goki, and SSB Vegeta.
Fans are hoping that more forms would be in the game soon.
"Dragon Ball FighterZ" is slated to release in the early part of 2018. There is no specific timeline yet as to when it will be officially out. The 2.5 D fighting game will be playable on PlayStation 4, Microsoft Windows, and Xbox One platforms.