'Dragon Ball FighterZ': Previews Story mode, Forbidden Story teased
A New trailer was released at the Gamescom for 'Dragon Ball FighterZ,' teasing about a Forbidden Story in the game's Story Mode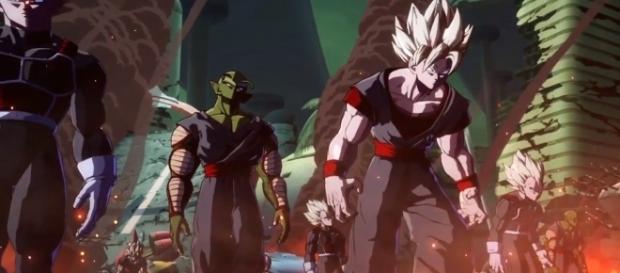 Bandai Namco Entertainment recently released a new trailer for the upcoming 2.5D fighting game, "Dragon Ball FighterZ." The video appears to be hinting at something about The Forbidden Story. Moreover, all confirmed and playable characters are also seen showing off their skills.
Latest trailer
The latest trailer released for "Dragon Ball FighterZ" features the playable characters already confirmed in the game. Piccolo, Krillin, Vegeta, and Majin Buu are seen showing off their fighting skills. The video also stars Androids 16, 17, and 18 in action.
The fan-favorite Saiyans are also seen in the trailer with Future Trunks getting most of the exposure.
Interestingly, the last few scenes in the trailer show hints of the enemies the Z fighters will face in the game's unique Story Mode. It is worth noting that in the latest issue of the Japanese publication Weekly Shonen Jump released a few days ago, it was teased that the team will face a mysterious force that seems to look the same as Goku and his team. There are several characters shown at the video starting at timestamp 1:25, which seems to coincide with the previous hints.
The text in the trailer mentions about a Forbidden Story, which is about to get revealed.
With the previous information about the revival of Android 16, it seems that central part of the Story mode will be influenced by the Cell Saga. The trailer gives a nostalgic feel with Android 16 highlighted and projected as a much powerful version.
Playable characters
The official inclusion of Android 16 and Android 18 makes a total of 11 playable characters in the game. Although Android 17 was also shown, it appears that he will play as a twin or an assistant to 18.
In fact, he was introduced in the trailer together with his twin sister and not as a solo character. The official roster now contains Piccolo and Krillin. Joining the roster are the Saiyans, Goku, Vegeta, Future Trunks, and Gohan. The villains confirmed in the game's playable characters are Frieza, Cell, and Majin Buu who are also shown in the latest trailer. And the latest additions, Dr. Gero's creations, Android 16, 18, and 17.
Release details
Along with the latest trailer is the much-anticipated release date reveal of the upcoming title from Arc System Works.
Players will have to wait until February 2018 to finally get their hands on the game. Bandai Namco has not yet revealed the specific day for the release. "Dragon Ball fighter Z" will be available on PC, PlayStation 4, and Xbox One.