'Dragon Ball FighterZ': New 'Android' story mode teased on February 2018
An alternate version of the 'Android' saga is teased in 'Dragon Ball FighterZ' on February 2018.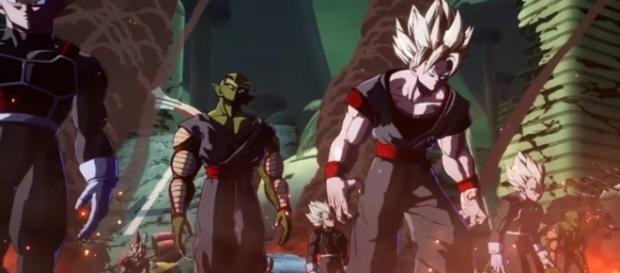 The latest updates for "Dragon Ball FighterZ" will feature an alternate "Android" saga, close beta release date and pre-order DLC for the sequel.
The new 'Android' saga
Bandai Namco Entertainment streamed a new gameplay trailer for "Dragon Ball FighterZ" at Gamescom 2017 as the video showcased four new playable characters and a teaser for a new storyline next year.
The new fighters are Piccolo, Krillin, Android 18 with Android 17, and Android 16. Piccolo in the game is an impressive range fighter as he can extend his arms to grab enemies and can shoot energy beams faster.
Krillin will be more creative in using his attacks to confuse his opponents. Android 18 can use her brother as an assist character and perform their tandem Photon Strike as a finisher. Android 16 will be a power house fighter who uses his brute strength and arm cannons to fight his opponents.
These four will join Son Goku, Son Gohan, Vegeta, Future Trunks, Frieza, Cell, and Majin Buu in the game as the Japanese publisher promises more "Dragon Ball" characters coming to the roster soon.
The Gamescom trailer also revealed its first in-game storyline involving an alternate version of the "Android" saga.
The plot will feature robot versions of Goku, Piccolo, and Vegeta attacking the city instead of Android 17 and Android 18.
The "Android" saga is one the most important arcs in the "DBZ" anime series, as it featured a future timeline wherein the two androids destroyed the world and killed all of the Z warriors. Future Trunks goes to the past and warns them in order to prevent the apocalyptic timeline. The new saga is set to launch in February next year.
Pre-order DLC and closed beta release date
Bandai Namco announced that the closed beta test for "Dragon Ball FighterZ" will launch in September and gamers can play for four days.
It is said to have nine playable characters but with the announcement of Piccolo, Krillin, Android 18, and Android 16 in the roster, it is unknown if the Japanese game publisher will include them on the roster. Players can now register for the closed beta this week, while the open beta is scheduled to launch in January next year.
Gamers who are planning to pre-order the game will have the chance to play the Super Saiyan Blue versions of Goku and Vegeta along with two exclusive character lobby avatars.
The SSJ Blue transformation was the first teased in the new issue of Weekly Jump magazine.
The publisher also announced a "CollectorZ Edition" which includes a stunning 18cm Goku diorama with exclusive "manga dimension" coloring, three art boards, the game itself, and a steel book casing.