'Dragon Ball FighterZ' Nintendo Switch version with Piccolo and Krillin teased
Rate this title
Piccolo and Krillin added to the 'Dragon Ball FighterZ's' roster while the game will be going to the Nintendo Switch console soon.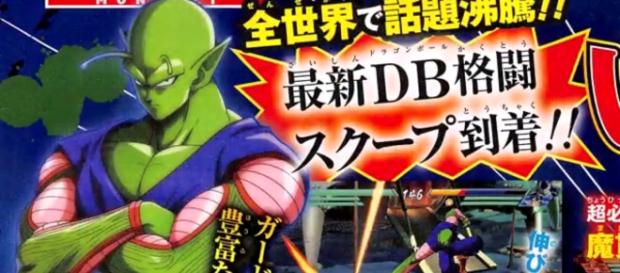 Two new characters are added to "Dragon Ball FighterZ" roster and Bandai Namco discussing the possibility of adding the game into the Nintendo Switch console.
Piccolo and Krillin confirmed in the roster
The latest issue of the Japanese magazine V-Jump revealed that classic "Dragon Ball" characters Piccolo and Krillin are added, "Dragon Ball FighterZ" growing list, joining the likes of Son Goku, Son Gohan, Vegeta, Frieza, Cell, Maijin Buu and the recently announced Future Trunks.
While both characters lacked the overwhelming power levels of the Saiyans in the game, their unique skills will offer something different during battles.
According to Gematsu, Piccolo will have the ability to extend his arms when grabbing opponents and shoot energy beams faster, while Krillin's can use the "Kamehameha" and the "Afterimage" technique against his foes. His "Destructo Disks" is unblockable and players can control its trajectory.
Aside from the new characters, Bandai Namco and Arc System Works revealed that players could control and fight the chibi versions in the game's online mode similar to "Guilty Gear Xrd" series.
Nintendo Switch version soon
Game producer Tomoko Hiroki stated that a Nintendo Switch version of "Dragon Ball FighterZ" could happen if the fans buy and enjoy "Dragon Ball Xenoverse 2" on the new console.
"In terms of Switch version, we're currently working on Xenoverse 2 for the Switch," Hiroki said. "So we want players first to go there, and when we talk about FighterZ."
Hiroki's statement confirms that the game will go to Nintendo's new console if the gaming fans buy "Xenoverse 2," hoping that sales will increase for further demand.
However, many gaming fans will have an issue about it.
First, both titles are completely different games as the "FighterZ" incorporates the traditional 2D fighting game, while "Xenoverse" combines combat gameplay with MMO elements and 3D exploration. Since both "Dragon Ball" titles are different, "FighterZ" might offer something more interesting that trumps the "Xenoverse" games.
The second reason is that most players have already played the "Xenoverse" games on other platforms for nearly a year by the time it launches in the Nintendo Switch. Many gamers have already played a version of the "Xenoverse" games in the console or PC, and will not bother playing it on a new platform just to convince Bandai Namco to bring a whole new experience.
Bandai Namco Entertainment announced that the closed beta for the game will launch on July 26 and will feature nine playable characters. The game will launch in 2018 for the PS4, Xbox One, and PC.
Click to read more
and watch the video
or