'Naruto to Boruto: Shinobi Striker': game has major game modes, Mission & Versus
Rate this title
Bandai Namco's upcoming ninja action game, 'Naruto to Boruto: Shinobi Striker' latest update reveals two primary modes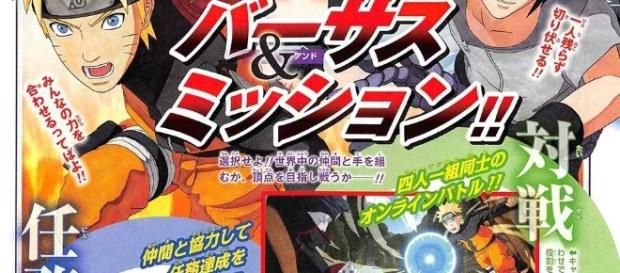 Several days ago, we reported Famitsu's update on the progress of the next ninja action game, "Naruto To Boruto: Shinobi Striker." The publication revealed that the game just reached 40 percent progress and would be apparently released sooner than expected. While the fans are saddened by the news, another Japanese publication today released latest updates about the highly anticipated offering following the successful "Ultimate Ninja Storm" run.
Latest update
It can be recalled that during the announcement of the game, Bandai Namco International revealed numerous features and details about its upcoming offering but did not reveal the game modes.
However, in this week's issue of the Japanese magazine Jump Weekly, disclosed about "Naruto to Boruto: Shinobi Striker" two major modes. These are the Versus Mode and the Mission Mode.
Mission and Versus mode
The Mission mode will come in different types of missions. This will include escort, exploration, annihilation, and subjugation missions. In this mode, the player will have to team up with a buddy and accomplish the variety of missions featured in the game.
On the other hand, in the Versus Mode, the player will have a mix of various types of characters. In other words, strategies and tactics would most likely be dependent on the combination of characters the player use and the kind of team and allies the player have. In addition, in this mode, the player has to live up to his role and bring his team to triumph.
Jump Weekly, aside from revealing the major modes also shared symbols that would be used in the game. The symbols represent the classification of every character. The symbols represent defense, offense, ranged, and healing. Most likely, it will be like that in the role-playing type of game where the player has to undergo different types of team structures with their respective weaknesses and strengths. In addition, the player can build a team by merging the styles possessed by each character.
Meanwhile, "Naruto to Boruto: Shinobi Striker" is currently being developed by Valhalla Studios, which is a subsidiary of Soleil. The game will be released on PlayStation 4, Xbox One, and PC. The game will be published by Bandai Namco International and will be soon available for sale for only $59.99. Moreover, it will first be made available in Japan and will be distributed to other regions including the US and the UK. We will keep you posted with more information about your favorite game as soon as we get more updates.
Click to read more
and watch the video
or